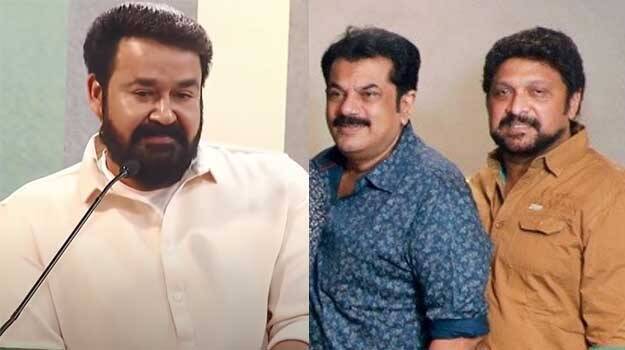 The inauguration of the office of Association of Malayalam Movie Artists (AMMA) was held in Kochi last Saturday. The five-storied building was inaugurated jointly by Mammootty and Mohanlal. The building constructed at a cost of Rs 10 crore at Kaloor is equipped with all modern facilities, including a 125-seat mini-theatre and exclusive cabins for script discussions. The announcement of the film produced by AMMA after Twenty20 was also held.
AMMA president Mohanlal spoke about the film. The film will be directed by Priyadarshan and T K Rajeev Kumar together. Mohanlal said a contest will be open to the public to suggest a name for the film. In the meantime, there was an interesting comment from the side of Mukesh. When Mukesh suggested the name 'Kola Seythathu Yar' Ganesh Kumar supported it. Hearing that, the audience burst into laughter and soon Mohanlal stopped his speech and remained silent for a while. He immediately said 'then let's stop it' and will forget about the contest. Although he said it as a joke, the displeasure was seen flashing in his face.


Nearly 140 artistes would be able to act in the movie, which is a crime-thriller, he said. The story and screen play is written by T K Rajeev Kumar and directed by both Rajeev Kumar and Priyadarshan. The film is produced by Antony Perumbavoor under the banner of Ashirwad Cinemas. The first look poster of the film was released in the function.