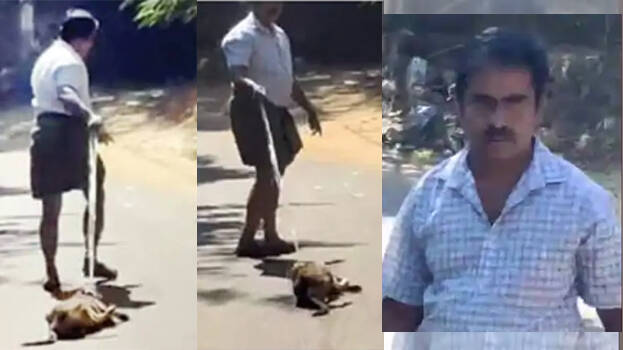 IDUKKI: Following an incident of animal cruelty, a 51-year-old man was arrested for dragging a stray dog on a road in Kattappana. The arrested has been identified as Shabu, hailing from Kairali Junction. The case was registered against him after a video of the dog being dragged along the road circulated on social media. He has been charged with sections including the Prevention of Cruelty to Animals Act.
The incident was around 3 pm on Sunday. Siddharth, who saw Shabu dragging a dog after tying it to a string at Kairali junction, filmed the scene on his mobile phone and informed the locals. Witnesses say Shabu beat the dog with a stick, tied him with a string and dragged him down the road. He dragged the dog about 20 meters down the road. The dog sustained serious injuries and was given first aid and later left in the care of Abhijit and Siddharth. At the same time, Shabu says he the dog with a knot while trying to escape after it attacked him.
A similar incident took place last December in Chalakka near Athani in Nedumbassery. Yusuf, a native of Chalakka, was tied a dog to a car and dragged it on the road for about 600 meters. The dog was rescued by locals who stopped the vehicle of the man who showed brutality to the voiceless animal. Yusuf said he was trying to abandon the dog because the family did not like it.