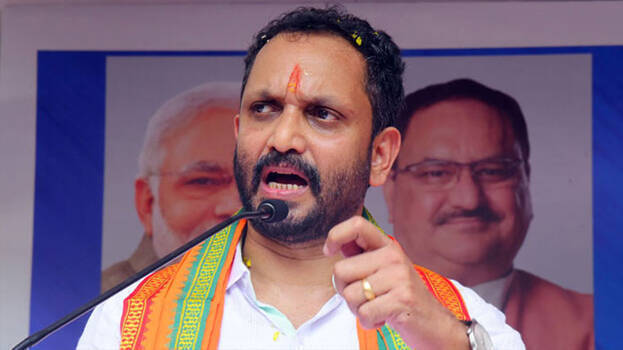 KASARGOD: BJP state chief K Surendran said the closure of roads on the Kerala border by Karnataka is just a propaganda. While talking to the media, he said the roads cannot be closed like that and would intervene in getting travel facilities to Kerala.
'All states look after their own security. 74% of the Covid cases in the country are in Kerala and Maharashtra. Most of this is in Kerala. Kerala is number one, they say that the pandemic has been controlled. In Uttar Pradesh having a population of 24 crore, there are not even 2,000 cases. However, Kerala having a population of 3 crore has more than 10,000 cases. Kerala has failed in controlling the disease, he said.
Surendran said the culture of corruption is strong in Kerala. He asked the chief minister and ministers to reveal the details of their assets before the elections. The RTI act says the speaker of Kerala has gone to Dubai 21 times. Is he the speaker of Kerala or speaker of GCC countries? What business he has there, asked Surendran.

The south Kannada district administration closed the borders pointing transmission of COVID in Kerala. Those without a COVID negative certificate will not be permitted to cross the border. Drivers of vehicles carrying essential items should produce negative certificate once in 15 days. They will be allowed to cross the border only after registering the details of the vehicles in check posts. Covid certificate is mandatory for bus passengers taken in 72 hours. However, ambulances carrying passengers will not be regulated.