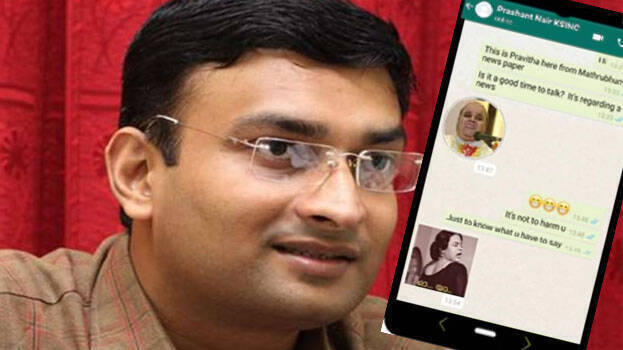 THIRUVANANTHAPURAM: Managing Director of Kerala Shipping and Inland Navigation Corporation (KSINC), N Prasanth has given a sexist reply to the query of a woman journalist who asked him about the recent deep-sea fishing controversy. The bureaucrat who is also known by the nickname, "collector bro" has again made headlines but this time it is for his improper behaviour towards a woman journalist from Mathrubhumi.
The Whatsapp chat records between the woman journalist and the bureaucrat are out. The messages were transferred yesterday afternoon between 1.33 pm and 2.23 pm. The woman journalist said she got his number from her colleague and as he didn't reply to her call, she texted him via Whatsapp.
The messages were sent on the number 9447048777.
Hello, this is Mathrubhumi reporter, Is it a good time to talk? It's regarding a piece of news the reporter asked. To which he replied with a sticker of actor Sunil Sukhada. Later she said she has no intention to harm him and she just wanted to know his response. To which he replied Oh...ya (with the image of an actress in an obscene manner)
When the journalist got enraged over this reply and asked what sort of response is this? he again replied with a sticker of an actress. The journo got further agitated and said that she never expected such an obscene response from a person holding a responsible government post. "I will be reporting it with the authorities concerned. I no longer need any response from your side. Before anything else, you need to learn to behave with them. Thanks!," she said.
And the collector bro replied, "Nice way to extract news. But sorry wrong person and the wrong tactics. Bye Madam. No wonder why some journalists are compared to scavengers," he said.