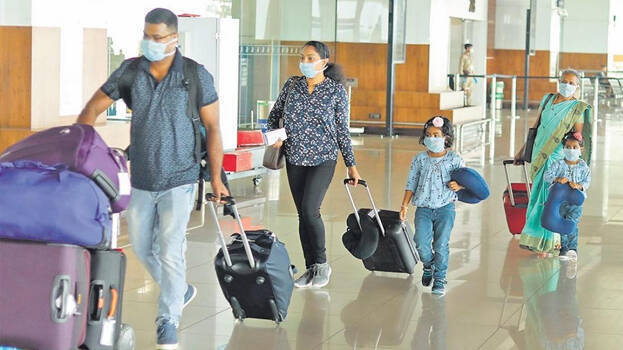 NEW DELHI: Starting February 22, pre-travel polymerase chain reaction (PCR) tests have been made mandatory for all international passengers arriving in India, including children of all ages.
An FAQ published on the New Delhi Airport website, an Air India official, and several travel agents in the UAE have confirmed the reports and said the existing processes were revised by the government of India in a bid to control the spread of mutant strains of the SARS-CoV-2 virus. India's new travel regulations are expected to come into force by Monday, February 22.
In the UAE, expatriates, especially those with families, are reconsidering their travel plans home, travel agents told Khaleej Times. "Indian expatriates, especially those with families, are deciding not to travel to India due to high travel costs, complicated pre-travel procedures, and ongoing school examinations," said Afi Ahmed, managing director of Smart Travels.
While an PCR test costs anything between Dh150 to Dh190 in the UAE, passengers can get the test done at New Delhi airport itself for a fee of Rs3,400 (Dh172). The fees include test and lounge charges, said the FAQ on the airport's website.
Families are finding the costs exorbitant and since the current travel situation is highly volatile, only those with genuine emergencies are planning a trip to India, said Hemali Shah, managing director of City One Tourism.
Shah said these steps were necessary as travellers were flouting the rules. "For example, flyers whose final destination is Maharashtra were going to nearby states, deleting the Air Suvidha app and taking domestic flights to the state," said Shah. In December, Maharashtra was the first state to introduce stringent pre-travel protocols following the British Covid-19 variant outbreak. "The government has to take action so that the virus does not spread," she added.
Travel agents are also highly recommending that all passengers travel with tests as not all airports in India have in-house testing facilities. "People are pretty confused with the new regulations and the rule regarding kids', including infants, has definitely discouraged travellers. Even though the ticket prices to India remain affordable, families are discouraged from travelling mainly due to ongoing school exams and pre-travel protocols," said Ahmed.
TP Sudheesh, general manager of Deira Travels and Tourist Agency said: "The requirements are applicable even to infants. These new rules and regulations are discouraging people to travel. Only those with emergency requirements are travelling now. Leisure travel at this time is not recommended."
"Even though an infant is not using a seat, they are defined as passengers. Also, for families, all these costs are expensive. In some cases, like Kerala, passengers have to undergo another test after seven days of quarantine, which is not feasible in many cases." Moreover, passengers have also been asked to undergo confirmatory molecular tests at the airports in India. "There is no clarity as to what these tests are as well. So, passengers are genuinely confused," said Ahmed.