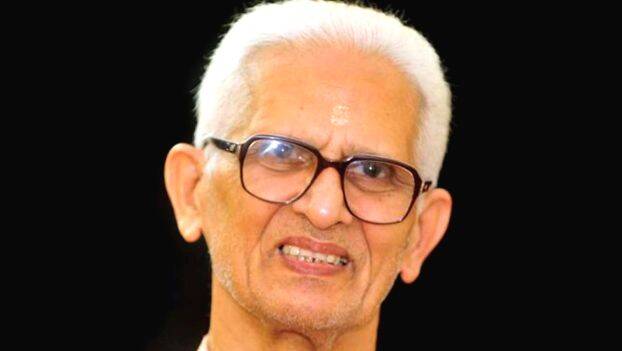 The poet, who conquered the hearts of the new age with his poetry, returned with a gentle laugh and leaving behind his shining lines. Vishnu Narayan Namboothiri did his meditation not only with poetry but also with his life.
As an English teacher, the master quietly cycled to the University College, Thiruvananthapuram every day. The journey, which was a meditation of his verses in every sense, is complete now.
Vishnu Narayanan Namboothiri died in Thiruvananthapuram at the age of 81.
Born in Thiruvalla in Kerala's Pathanamthitta district, Namboothiri's works are known for their blend of tradition and modernity.
The poet travelled to the Himalayas number of times.
He named the book that comprised his Himalayan travel experiences 'Yatayatham'. The name given to a collection of his poems was 'Parikrama'. Vishnunarayanan Namboothiri's journey through poetry has at the same time the gentle purity of pilgrimage and the intensity of search.
The only answer to the grit of the one who went to see Kashi and Kailash, extending his itinerary across the sea to the United States, Canada, and Greece is – his life and poetry was a search for the soul and outside world.
What is the significance of the professor taking over as the head of the Thiruvalla Srivallabha Temple the day after he retired as the Head of the English Department from the University College, Thiruvananthapuram? Only a few know that it was predetermined.
It was the result of the prayer of a mother who lost all five children except one.
Vishnu Narayan Namboothiri started by studying Sanskrit, Vedas and Puranas in the traditional way. The mantra to fly together to depth and heights was learned from the Vedas. When Vishnu Narayan Namboothiri gave wings to his own poetry from the depths of Indian heritage to the skies of modern times, a new tree was sprouting vigorously in Malayalam poetry. He remained the owner and guardian of that unit until the very end.
When Vishnunarayanan Namboodiri writes that poetry is an unbroken link of Indian tradition, how can the tentacles of poetry be stretched to the vast expanse of Western thoughts? How do you combine the two? It is a conflict. Vishnu Narayanan Namboothiri's poems show the sad side of that conflict. The poet is the one who crossed that sea.
Poems, essays, plays, travelogues, children's literature ... he travelled through all these genres of writing. He has won many awards, including the Central and Kerala Sahitya Akademi Awards and the Ezhuthachan Award. He was awarded the Padma Shri by the nation.
He had been bedridden for almost a year with an empty mind freed from the conflicts of memories and recognition due to dementia.
Vishnu Narayanan Namboothiri has disappeared not only from poetry, but also from time.
When that sacred gentle presence fades, Malayalam gets the sense of that huge vacuum in the poetic space. At this moment, Kerala Kaumudi also pay obeisance before that great and sacred poetic life.