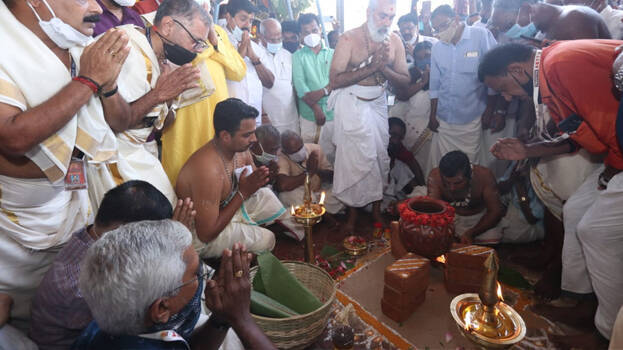 THIRUVANANTHAPURAM: Seeking the blessings of Attukal Amma from their homes devotees has set the stage for this year's Pongala. The annual festival began when the fire was lit in the temple's traditional Pongala hearth. The ritual witnessed the participation of Devaswom Minister Kadakampally Surendran, Sashi Tharoor MP and MLAs V S Shivakumar, V K Prasanth, O Rajagopal and Mayor Arya Rajendran.
As the ritual was carried out this time under the strict guidelines of covid 19 protocol, the Pongala will be offered only in the Pandara hearth of the temple. Devotees were not given permission to offer Pongala even on the premises of the temple. The district administration has issued directions banning the offering of Pongala in public streets and roads.
The Pongala will be dedicated before the goddess at 3.40 pm. After the Deeparadhana at 7.00 pm, the Kuttiyotta ritual will take place. Due to the covid 19 regulations, only one boy will participate in the ritual. The temple will be closed at midnight 1 am.