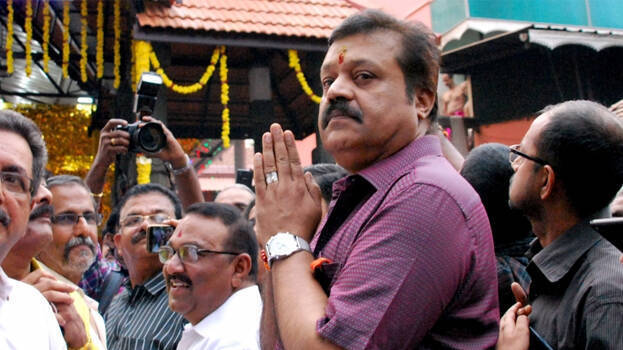 THIRUVANANTHAPURAM: There is high pressure on actor Suresh Gopi to contest the assembly polls either from Vattiyoorkavu or Thiruvananthapuram. Speculations were rife that the actor would contest polls but as per latest reports, the actor will not be in the fray due to his busy film schedule.
Suresh Gopi will join the shoot of the film 'Paappan' directed by Joshiy from March 5. It is heard that the actor has told those close to him that contesting polls in this situation will affect the film and so will not be contesting.
The film will be shot in Pala, Thodupuzha and Erattupetta.
Meantime, things will change if the central leadership asks him to contest polls. Thiruvananthapuram and Vattiyoorkavu are both classified as A class constituencies. The party is of the belief that if Suresh Gopi contests, they are sure to win the seat. In this situation, if Prime Minister or Union Minister Amit Shah asks him, he will surely be in the fray.
According to a survey conducted by a private agency for the party, Suresh Gopi is the most winnability leader in the BJP. In the last Lok Sabha elections, Suresh Gopi managed to garner more than three lakh votes. The party assessed that the BJP has a chance of victory wherever he contests.
The BJP had earlier appraised that if Suresh Gopi is fielded, it would pave way for a triangular fight in Vattiyoorkavu and Thiruvananthapuram. Suresh Gopi is under pressure to contest polls. The BJP leadership is ready to give whichever constituency he demands.