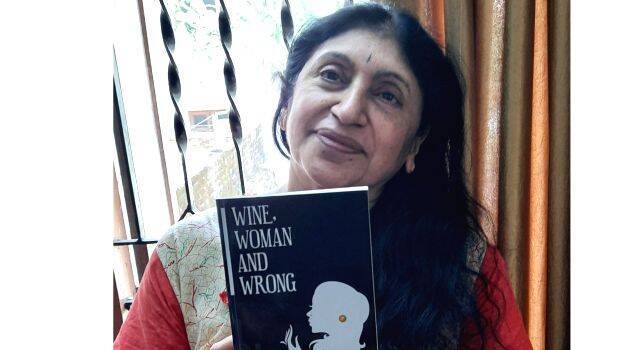 Writer and poet Geetha Nair G's collection of short stories "Wine, Woman And Wrong" is heady like wine and engaging like an enchanting woman.
In the different tales set in different locales and social milieu, told in impeccable language through wives, husbands, friends and children, the empathy for the protagonists is unmistakeable. The author weaves the tales around the reader luring him or her to be part of the plot. Nowhere does the writer thrust herself to the forefront with contrived manouvres. The stories are laced with humour and sympathy, as the well-known writer Jaishree Mishra observes in the blurb.
The 33 stories in the collection are masterfully concise. They are crisp stories chiseled out of real life experiences in society. The author controls the narrative in each story with a strong hand and a "Come to Hecuba" focus.
Another notable feature is the wide range of characters and situations that these stories present, the credit for which goes to the author for her astute observation of human beings, situations they are in and their fate and frailties.
One who reads the book will be able to relate to the characters and circumstances very easily and long after a story is read, the characters in it will keep returning to the reader's mind. Some of them may even keep haunting the reader.
Some of these characters are the faithful retainer Sara and her chimerical Achayan; the maritorius Punjabi kudi who tames her hard-drinking husband; the self-absorbed arachnologist on the train; the irrepressible Linnet with her unique and inspiring conception n of luck; and above all the little babies in the orphanage who should never be shown any kind of affection.
To sum up "Wine, Woman and Wrong", a real page-turner, is a sparkling anthology of stories that features alcoholic husbands, spirited wives, illicit lovers, dubious godmen, admirable children, faithful dogs and more… .
Know the Author
Geetha Nair G. is the author of two collections of poetry- "Shored Fragments" and "Drawing Flame".
Her poems have been included and reviewed favourably in The Journal of the Poetry Society (India). Her poems and short stories have been featured in various print and online publications such as The Punch Magazine Anthology, The Kali Project and Literary Vibes.
"Wine, Woman and Wrong" is a recent collection of Geetha Nair's short stories.
Geetha Nair is a former Associate Professor of English, All Saints' College, Thiruvananthapuram, Kerala.