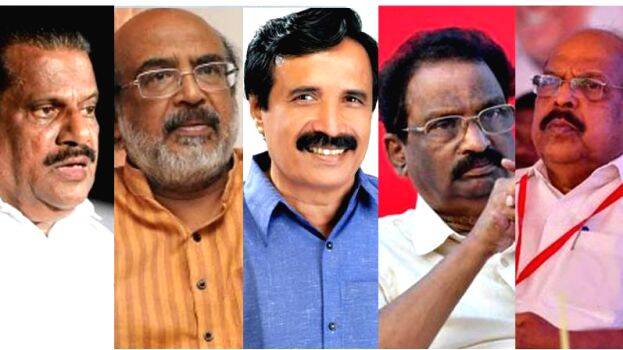 THIRUVANANTHAPURAM: With the CPM state secretariat proposing to tighten the condition that those who have completed two consecutive terms should withdraw from the assembly elections, about 25 people, including five current ministers and the speaker, are out of the fray. Thomas Isaac (Alappuzha), G Sudhakaran (Ambalappuzha), Prof. C Raveendranath (Puthukkad), AK Balan (Tharoor) and EP Jayarajan (Mattannur) are the ministers who won't be able to contest.
Chief Minister Pinarayi Vijayan will be the only candidate from the politburo. About 50 percent of the candidates will be newcomers. The state committee, which meets today, will take the final decision. An official announcement will then be made with the approval of the district committees.
Apart from Speaker P Sreeramakrishnan, senior leader VS Achuthanandan (Malampuzha), former minister S. Sharma (Vipin) is also on the 'exit' list. VS, who is retired due to old age, will not be campaigning for the first time. The Chief Minister himself is at the forefront of the campaign.
When Kalpetta had to be handed over to the LJD, CK Saseendran, who is a one-term MLA and VKC Mammad Koya, who are not on the shortlist in Beypore, may be left out. Instead of the late KV Vijayadas, a new face will contest in Kongad.
The previous state committee had suggested that there should be no exemption for those contesting parliamentary elections. Today, the state committee will decide whether to give the necessary concessions. Indications are that one or two people will get concessions. Central committee members MV Govindan and K Radhakrishnan and state secretariat members TP Ramakrishnan and KN Balagopal are among the names on the list.
Exempt ministers
EP Jayarajan, AK Balan, Thomas Isaac, G Sudhakaran, Prof. C Raveendranath
Ministers in fray
Kadakampally Surendran, KK Shailaja, J.Mercy Kutty Amma, AC. Moidheen, TP Ramakrishnan, MM Mani, KT Jaleel.
Prominent MLAs to be excluded
Raju Abraham (Ranni), A Pradeep Kumar (Kozhikode North), P Aysha Potti (Kottarakkara), B Sathyan (Attingal), R Rajesh (Mavelikkara), K Suresh Kurup (Ettumanoor), S Rajendran (Devikulam), P Unni (Ottapalam), KV Abdul Khader (Guruvayur), BD Devassy (Chalakudy), K Dasan (Koyilandy), TV Rajesh (Kalyassery), James Mathew (Taliparambu), C Krishnan (Payyannur), K Kunhiraman (Uduma).