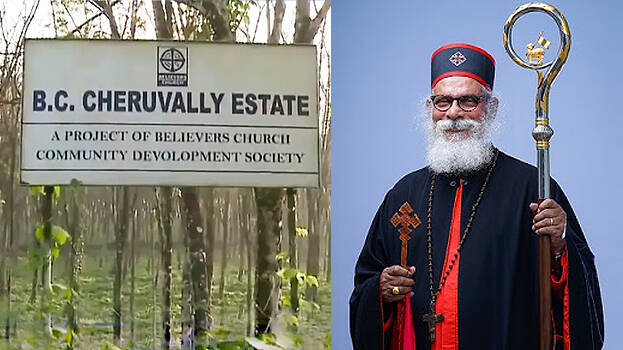 THIRUVANANTHAPURAM: The Income Tax Department has confiscated the Cheruvally Estate, thereby hindering the Sabarimala airport project. Cheruvally Estate, which is in the proposed project area of Sabarimala airport and owned by Believers Church, was seized by the Income Tax Department for violating foreign currency transactions. The Income Tax Department is seizing the church's property as a precautionary measure after the Income Tax Department found that Rs 500 crore in foreign currency transactions was illegal.
If the tax arrears are not paid, Cheruvally Estate is likely to fall into the hands of the Income Tax Department. If that happens, the airport project will be in jeopardy. The Income Tax Department has confiscated 2,000 acres of land, including the Sabarimala airport project area. Earlier, the government's decision to pay for the Cheruvally Estate, which has an ownership dispute with Harrison Malayalam, has landed in a controversy. The Income Tax Department move came amid the government going ahead with the airport project.
KP Yohannan, the bishop of Believers Church, has been summoned to appear before Income Tax Department in connection with the incident. Yohannan had sent a notice to the Deputy Director General of Income Tax stating that he was unable to travel and would be available for questioning in the first week of December. He is currently at Gospel for Asia headquarters in Texas, USA. The raid also uncovered unaccounted cash and financial transaction documents from several institutions of the Believers Church. Yohannan's home was also searched by the Income Tax Department. The audit also found that funds from abroad had been widely diverted under the guise of charities.