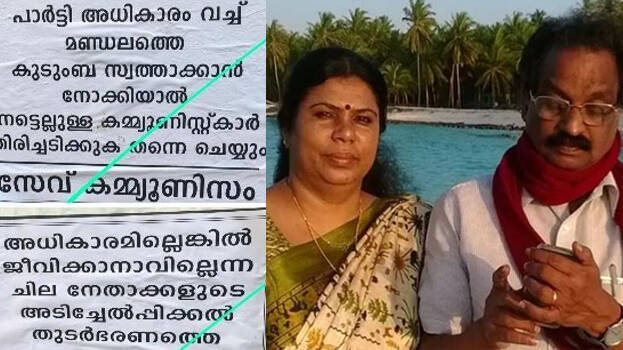 PALAKKAD: Posters against Minister A K Balan in Palakkad city. The posters have appeared in the name of Save Communism. The posters said that will retaliate if tried to make the constituency a family property. Those who cannot live without power will obstruct retaining power.
Making Minister A K Balan's wife P K Jameela a candidate in Tharoor has both angered the CPM leaders and the activists. Jameela is given a seat only on the basis of family heritage in Tharoor constituency where A K Balan has been contesting since 2001. Everyone expected to consider Ponnukuttan, the district office bearer of the Scheduled Caste Welfare Committee or K Shantha Kumari, former chairperson of the district panchayat.

There is dissatisfaction on the candidates of other constituencies in Palakkad. Although district secretary C K Rajendran was considered instead of P K Sasi in Shornur, it was changed later. The name heard now is that of P Mammikutty. Another disagreement is that DYFI leader Prem Kumar is being considered after blocking P Unni's second stint in Ottapalam. The inclusion of Kongad DYFI leader P P Sumod in the list has also drawn criticism.