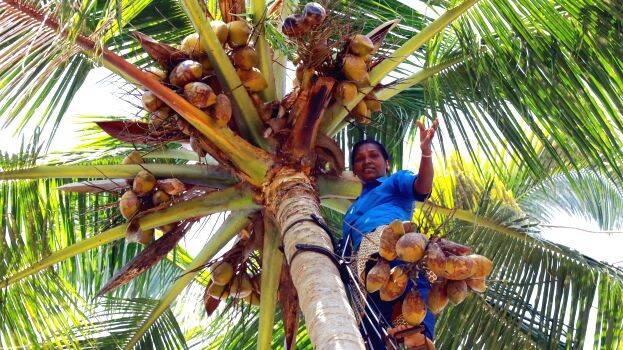 ALAPPUZHA: Sujatha is singing atop coconut trees while dropping the coconuts. Her crooning will go on till she finishes her job. If a resident ask her to repeat the song, she'll happily do that. Sujatha says that she usually climbs up to 30 trees while singing her folk songs. The fare to climb a coconut tree is 60 rupees. Sujatha, the daughter of freedom fighter and costume artist Kunjappan and Janaki from Kannachamkavil in Mannancherry, now earns a living by climbing coconut trees. The 47-year-old was also a busy folk singer before the Covid induced lockdown.
She started her career in a group that sings devotional choir during her school days. Later she became the lead singer of folk songs troupes like Chembakassery, Kannaki, Unarvu and Nattupulika. She has performed at thousands of venues. However, due to Covid, she stopped getting work. She has previously worked as a coir factory worker.
She took up coconut climbing in 2014 when she was out of work. In 2014, she received training in coconut climbing from the Kalavoor Socio Economic Unit. Coconut climbing is done using the machine given as part of this.
Although many women were with her in the training, no one made that their work. Hundreds of families in and around Alappuzha call Sujatha to climb coconut trees.
She lives with his sisters in a house in Mannancherry.