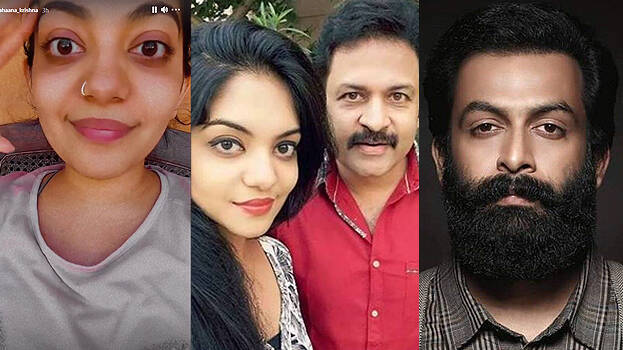 Actress Ahaana Krishna has denied the allegations made by her father and actor Krishnakumar. Reacting through her Instagram stories, the actress said that she has not blamed anyone and wants to keep herself out of the controversy.
"I did not say anything. People who have spoken may be related to me. That is always the opinion of another person. Do not include me in this. I have nothing to do with this drama. I am saying this in order to clarify one thing. I have been a huge fan of Prithviraj ever since he became an actor. I will always be so. It's a little disgusting to see unwanted news with my face as a thumbnail," Ahaana said.
In a recent interview with a YouTube channel, Krishnakumar had said that Ahaana was excluded from a movie just because she happened to be the daughter of a BJP member. Krishnnakumar had also hinted that a big hero was playing the lead in the film.
'Following the controversy, producer and production controller NM Badusha came up with the explanation. In his Facebook post, Badusha said that Ahaana was excluded not because of any political reasons and that actor Prithviraj was not involved in the issue.