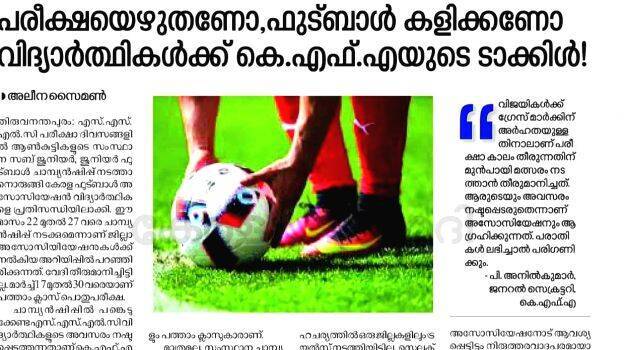 THIRUVANANTHAPURAM: The Kerala Football Association (KFA) has withdrawn from its decision to conduct the boys' state sub-junior and junior football championships on SSLC examination days. The championship has been postponed to April.
On Monday, Kerala Kaumudi had published news about the KFA's stand which worried the students. Following this, action was taken.
Parents and students had protested against the KFA's decision to deny the opportunity to many children. The championship was scheduled to take place from March 22nd to the 27th. The district football associations were also notified. This would have deprived the 10th standard students of the opportunity to participate in the championship. Class 10 has four exams on championship days.
The district team for the state championship could not be selected due to the COVID crisis. It was alleged that the district team could not be selected without conducting selection trials.
The move to postpone the championship to April will also benefit students as the winners are also eligible for the grace mark. There will also be enough time to conduct selection trials and camps to select the district team.