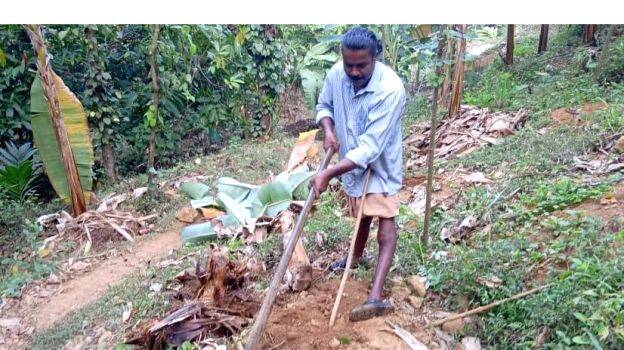 KELAKAM: Anilkumar, who lost the mobility of his left leg at the age of one and a half due to polio, was once again mercilessly hunted down by fate. Thus, he was forced to use two crutches. Yet, he did not give up. His three-and-acre farm near Adakkathode in Kannur is proof of his willpower.

After studying electronics at ITI, he was doing work related to it and running a small stationery shop and a small farm when he met with a bike accident. The polio-infected leg was completely damaged in the accident. But AnilKUmar did not waste time on limitations. With the help of the crutches, he went on to set a farm on a three-and-a-half acre field between steep cliffs in Shantigiri. He has cultivated various crops such as banana, pepper, fodder, tapioca, cocoa, orange, coffee and palm. Anil Kumar's farm is also an excellent example of mixed farming.
The bike accident happened nine years ago. He was bed-ridden for a year and a half. He underwent three surgeries in Mangalore. The electronics store was shut down because he could not sit and work with his knees bent. From such a situation, AnilKumar walked forward to his farm within 2 years.
In addition to various crops, he also earns income by raising goats, chickens, buffaloes, cows and bees near his house. AnilKumar's survival story became known to the outside world only after Kelakam Agriculture Officer KG Sunil visited the farm and shared Anil's story on the WhatsApp community 'Karshakamitram'. It was Cheeramvel native Justin who helped Anil Kumar with advice on modern farming methods.
In 2006, he married Prema, a native of Pulpally. The couple has 2 children- Anurag, a ninth class student and Anamika, a fifth class student. Anil's parents, wife, brother and children have played crucial parts in his success story. The farm is also guarded by his three dogs.