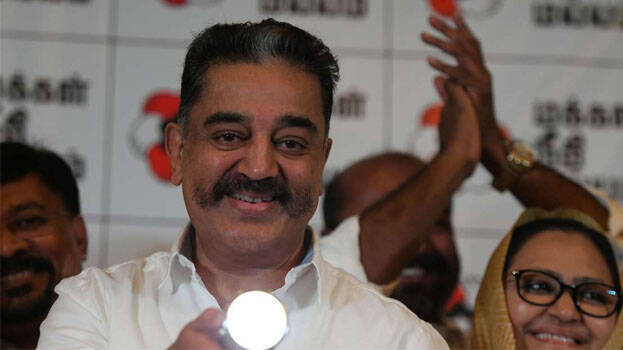 CHENNAI: Actor-turned-politician and leader of Makkal Needhi Maiam Kamal Haasan is the richest among the candidates who have filed nominations till Monday for the forthcoming assembly polls in Tamil Nadu. He has declared assets worth Rs 176.9 crore in his name, which includes movable assets worth Rs 45 crore and immovable assets worth Rs 131.8 crore.
He doesn't have a spouse and dependents and has no cases against him, as per his affidavit. Kamal's party vice-president and vanilla exporter R Mahendran is the second richest. The assets in his name and his wife's name are close to Rs160 crore. He has a dependent with assets worth Rs18 crore. So, looking at the combined assets of the family, he would beat Kamal by a little over Rs1 crore.
Many political heavyweights like chief minister Edappadi K Palaniswami, DMK president M K Stalin, deputy chief minister O Panneerselvam, MNM chief Kamal Haasan, Udhayanidhi Stalin, AMMK general secretary T T V Dhinakaran and a battery of ministers have filed nominations so far. The website of the chief electoral officer of Tamil Nadu shows that till Monday, 980 people have filed nominations.
Palaniswami's affidavit shows that his assets, including that of his wife and the undivided family, increased by 34% between 2016 and now. While he had declared assets worth Rs5 crore in the last polls, it has increased to Rs6.69 crore in 2021.
Stalin's assets have increased by 53%, from Rs5.8 crore to Rs8.9 crore, during the same period. He has 47 cases pending against him, most of which are for unlawful assembly, especially during the pandemic.

Deputy chief minister O Panneerselvam's assets have taken a major leap forward in the last five years. From Rs1.5 crore, it has gone up to Rs7.8 crore, a jump of 420%. A major increase in the assets of his wife is the reason for the steep increase, his affidavit shows.
Udhayanidhi Stalin, who is contesting from Chepauk-Triplicane, has assets worth Rs29 crore. The rest are in his wife's and children's names. He has 22 cases pending against him.
AMMK leader T T V Dhinakaran's assets have more or less remained the same during the past three years. His previous affidavit filed in the 2017 by-election to R K Nagar showed his asset value at Rs10.26 crore. It has gone up to Rs10.86 crore now. A major share of the movable and immovable assets are in his wife's name. Dhinakaran owes Rs28 crore to the government, apart from another Rs51.34 crore to the government, which is in dispute.