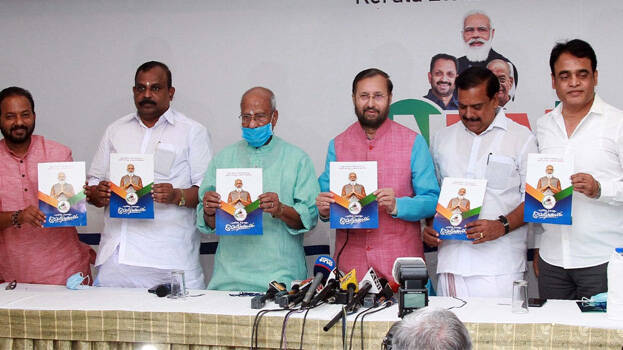 THIRUVANANTHAPURAM: The NDA election promise to enact special law for the protection of rituals in Sabarimala. The election manifesto has asserted that a law will be brought against love jihad and welfare pension will be increased to Rs 3,500.
Six gas cylinders will be given free for BPL families a year, laptop for high school students and a job will be given to at least one member of the family. An amount of Rs 5000 will be given to the family if the breadwinner becomes ill. Other important promises made in the manifesto are to provide land to landless SC / ST families.
Union Minister Prakash Javadekar unveiled the election manifesto with the slogan 'New Kerala with Modi' at a function in Thiruvananthapuram. The minister said the NDA is proposing ideas aiming development in Kerala. He alleged that the Pinarayi government, who had been in power for five years, renamed the central government schemes and implemented them in Kerala.