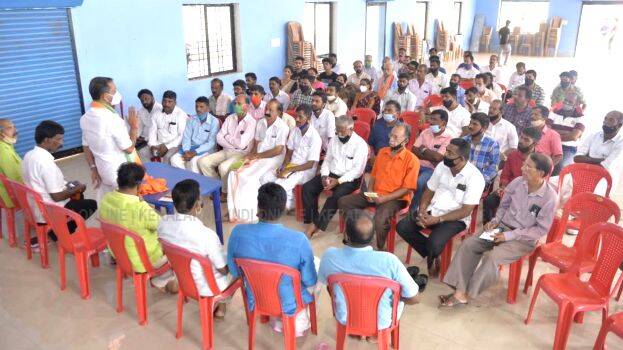 KASARAGOD: Amit Shah's 'Shakti Kendra' tactic will be implemented for the victory of BJP state president K Surendran in Manjeshwaram. This tactical strategy was an experiment carried out to capture the northern states when Amit Shah was the party president.
The strength of 'Shakti Kendra' is the promise that if Manjeswaram is not captured this time, it will never happen again. The BJP leadership has specially recruited 46 people to work in Shakti Kendra. Five booths will be assigned to one. They will in turn give tasks to panchayats in a one for each booth ratio. The total number of voters in the booths, including the number of BJP voters, the number of voters of other parties, the number of voters and the number of non-native voters will be collected first and given to the constituency office bearers.
Members of the Shakti Kendra are responsible for ensuring that the pro-NDA voters and their families cast their ballots in the booths.
There are 175 booths in Manjeshwaram. Some members of the Shakti Kendra have been given charge of two and three booths as per operational convenience. The constituency committee and the district committee recruit talented workers for the Shakti Kendra. They will be loyal to the party and the Sangh Parivar. K Surendran has twice convened a meeting of members of Shakti Kendra.
Manjeswaram, a constituency where Surendran lost by just 89 votes in 2016, is a constituency with crucial influence for the Kannada language minority. It is the only assembly constituency in Kerala where seven languages ​​are spoken.