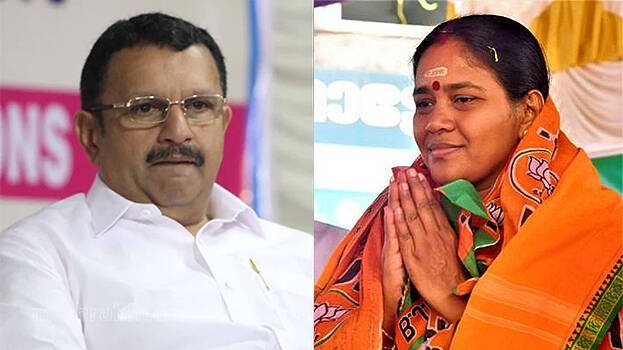 THIRUVANANTHAPURAM: Sobha Surendran has responded to Congress leader K Muraleedharan's taunt that she is an unwanted leader in the BJP. A son who grew up only through his father's identity need not evaluate me. Anyway, I never had to resort to Muraleedharan's situation where he had to go around asking for party membership to his own party's members, Shobha said in an interview to a magazine.
"This son only gave pain to K Karunakaran, a giant of Kerala politics. Had he maintained a proper level, Muraleedharan would probably have stood out in Congress politics even better than Ramesh Chennithala. He should first introspect and then come to advise people like me", she said
Sobha Surendran said that she is proud to say that she has the courage to reply any question that may be detrimental to a woman's dignity, whether outside or inside.

"Muraleedharan should have had at least the general information that being a member of BJP's National Executive Committee, I am in charge of attending the meeting with Narendra Modi"
Sobha asked when he will learn to treat such a woman with a little bit of decency.
Everyone who knows Kerala politics knows that Muraleedharan has an uncontrollable hatred for me. Muraleedharan contested the 2004 Vadakancherry by-election as a very safe constituency. At the same time, I was called on by the Sangh Parivar movements to contest against Muraleedharan, who had insulted the Marad warriors in very bad language.
Our motto was 'Marad's reply through ballot'. Muraleedharan fell to his knees in Vadakancherry that day because of the increase in votes in Sobha Surendran's box. He still carries the hatred with him. Neutrals can recognize that. After the defeat in Vadakancherry, Sobha said that Muraleedharan's graph had collapsed and formed a different party.