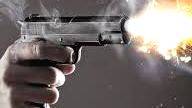 KASARAGOD: Mafia boss Raheem, who tried to become a hero by firing on the police at Manjeswaram, lost Rs 1.5 crore in retaliation by the police. Also, four of his disciples were arrested.
Police launched an operation in Kasaragod to nab goons after they opened fire at the police on Thursday. The operation, led by Kasargod DySP PP Sadanandan, seized three expensive cars, one and a half quintals of ganja, 50 grams of MDMA and a foreign-made pistol. The police said that all these would cost Rs 1.5 crore.
According to police, Rahim's gang of about 30 people was involved in drug trafficking and contract killing (quotation) at the Karnataka border. Nine persons are currently in the custody of Kerala and Karnataka police. Police hope to lock down the group to curb border violence to some extent.
Abdul Latif, 26, of Atka Baidala in Banthiyod, Mohammad Shakir, 20, of Miyappada, and Mohammad Ashfaq, 25, were arrested on Friday morning by the Karnataka Vitla police and Noufal, 22, of Kodalamugar Guddapada was nabbed by Manjeswaram police on Friday while smuggling ganja.
Police conducted raids in the Kasargod district till Saturday morning but could not find Raheem. Vitla police are on the lookout for him.