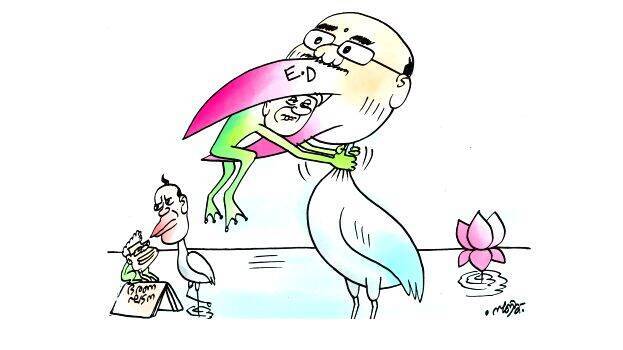 ​​​THIRUVANANTHAPURAM: In the midst of a war of words between UDF and LDF over blocking the people's food, BJP has opened a new battlefront in the assembly polls, by highlighting the latest move of the state government to initiate a judicial probe against the central agencies including ED. As the CPM has also retaliated the move of the saffron party to utilise the issue, after Sabarimala and double votes row, the fight between the Hindutva right-wing and left-wing has entered into another phase.
When the central leaders like Amit Shah and Rajnath Singh who visited the state, lashed out at the government over the judicial probe, CPM general secretary Sitaram Yechury and Chief Minister Pinarayi Vijayan strongly retaliated. The opposition leader is also using the judicial probe as a newly-found weapon against the state government.
Union home minister has said that the government's judicial probe on customs, ED and I-T department is their last strategy to save the government's face. "It was the chief minister's principal secretary who was arrested and questioned in the gold smuggling case. Therefore the judicial enquiry against the agency which is investigating that case is just a natural response," he said. The union minister talking about the issue in Delhi, reveals that the centre is also considering the issue with utmost seriousness.
Whereas defence minister Rajnath Singh has said that the declaration of judicial enquiry was anti-constitutional and amounts to challenging the federal system in the country. CPM general secretary Sitaram Yechury lashed out at Rajnath saying that he should study the constitution. He also added that the central minister must have the conscience to realise that no central agency can intervene over state's issues without the consent of the state government. Whereas the chief minister asked why should the union ministers feel discomfort over the judicial probe?

Police and thief game
Meanwhile, opposition leader Ramesh Chennithala has mocked that the judicial probe against ED is like a police and thief game between the state and central government. He also asked why the central agencies are not conducting further probe. UDF convenor M M Hassan said that the judicial probe is just an election stunt and it won't stand as it doesn't have any legal basis.
Application not given
Even though the state government has decided to call for a judicial probe against central agencies, the government authorities have not filed a plea before the poll panel to seek its nod, before issuing official order for initiating the judicial investigation. As the code of conduct exists, the government requires the poll panel's prior approval to implement cabinet decisions. The commission must scrutinise whether the state government have the right to declare judicial investigation against the probe agencies. The state government has appointed former high court judge V K Mohan as the judicial commission even though official orders to ensure its legal basis is yet to be issued.