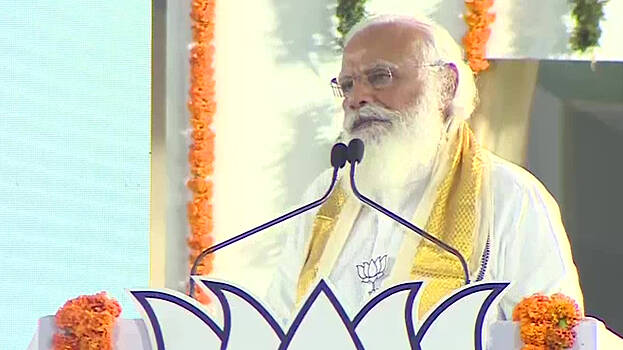 THIRUVANANTHAPURAM: In connection with the Assembly elections, Prime Minister Narendra Modi arrived in Thiruvananthapuram to campaign for the NDA. Modi arrived at the Greenfield Stadium in Karyavattam and started his speech by talking about Padmanabha Swamy and Attukalamma. He said that Thiruvananthapuram is the land of Padmanabha Swamy Temple, Attukal, Vellayani and Azhimala temples and the land of socio-cultural progress.
Modi scoffed at both the UDF and the LDF, saying that there is a 'Comrade Congress Party' in Kerala. Modi called both the fronts 'CCP', saying that the LDF and the UDF are twins. He also scoffed that the two fronts should merge and accused the UDF and LDF are competing with each other over corruption.
'Thiruvananthapuram is the first place to give a seat to the BJP in the Assembly. The UDF and LDF are twin brothers in terms of communalism, misrule, nepotism and violence. With each election, both fronts are getting closer. Kadakampally Surendran was the minister to protect the temples. But he was the mastermind behind the moves against the believers, " Modi said.
He was referring to the Devaswom Minister, saying that a minister in Thiruvananthapuram had acted as a think tank against the believers. Modi started his speech by saying 'Namaskaram' in Malayalam and reminded that Thiruvananthapuram was the domain of Sree Narayana Guru and Ayyankali. Modi also spoke about Nambi Narayanan, who was accused in the ISRO scam. The Prime Minister said that groupism in the Congress had destroyed him.