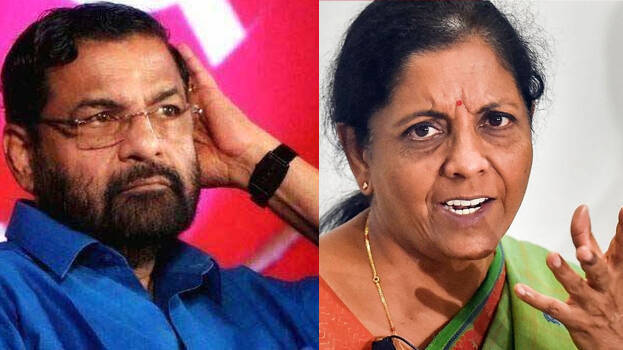 PALAKKAD: Union minister Nirmala Sitaraman has alleged that the state government is only disbursing the central-funded Mudra loans only to left lenient people in the state. "BJP men are being ignored from the central programme. There exists an unholy nexus between UDF and LDF in the state. The opposition is silent over the state government as they fear that government will take action against them over the solar case," the finance minister said.
She lashed out at Devaswom minister Kadakampally Surendran. "This is the land of a minister who has ordered for lathi charge against the devotees who condemned the entry of women into Sabarimala. Today he is saying that it was not right. He as a minister must have protected the temples. He should have some devotion towards the Swami but here he is beating up the devotees who are going to visit the Swami. Even if he does penance for 500 years, he can never escape from the unholy acts done by him," she said.
"I have never seen a hindu minister who beats up the devotees of Lord Ayyappa. My eyes got filled with tears when I saw those visuals. Kadakampaly has done unholy acts, which will hunt him for the next seven lives. He has done unholy acts in his previous life also. Kerala must be relieved from the hands of those who commit match-fixing," the minister added.