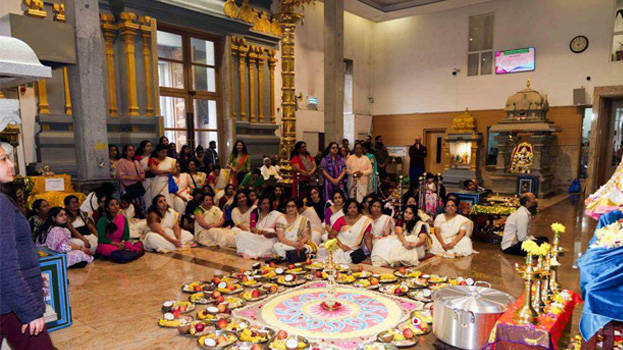 Attukal Pongala was conducted successfully at Sri Mahalakshmi Temple at East Ham, London for the second year. More than 50 devotees took part in the pongala to celebrate the event. People from faraway places took part in the event this year. Especially group of women came from Croydon Surrey to mark the event. There were seven priests and volunteers helped to make this event a success.
The pooja started by 10 am and completed by 12.30. Archana plates were ready for the devotees arrived. Each devotees name and star was given for the pooja and the priest called out their details for the sankalpam followed by lot of mantras to bless the devotees and their families flowed by each taking the archana plate in their hands with the Deepam and went around the temple with nagaswaram and chenda melam. The head priests took the plate from the devotees and placed the archana plate in front of Devi and around the beautifully decorated kolam and nilavilakku Each devotee was allowed to put pongal rice in a bucket before it was taken away to be washed by the priests. Devotees were also able to pour milk in the vessel as if each is performing their own pongal. Once the pongal was lit beautiful devotional Bhajans were sang by the devotee led by lead singer.
When the pongal was ready more beautiful pooja was conducted by the priest and pongal was offered to Devi. Finally each devotee was blessed by the priests. To conclude, food was also organised at the annadhanam hall for the devotees.‌
The success of this pongal has been an effort of lot of volunteers, the temple staff and most of all the priests who conducted the event exceptionally well.