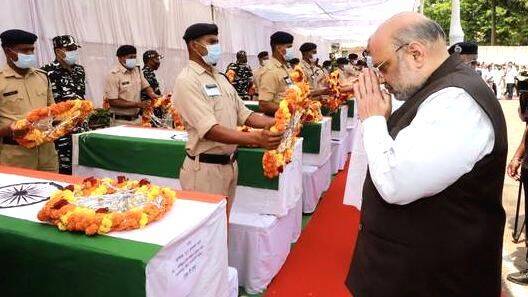 RAIPUR: The number of soldiers killed in a light attack by Maoists in the Bastar forest in Chhattisgarh has risen to 23. Another body was found during a search yesterday.
Missing CRPF jawan Rakeshwar Singh Manas, 35, was reportedly in the custody of the Maoists. He hails from Jammu and Kashmir.
An unidentified person informed two local media persons about this over the phone. The Maoists have not confirmed this or demanded a ransom.
The CRPF said efforts to free the jawan were progressing and would hold talks with the Maoists.
A search of the entire six-kilometer forest area was done yesterday for Rakeshwar but to no avail.
Meenu Manas, wife of Rakeshwar Singh, requested Prime Minister Narendra Modi and Union Home Minister Amit Shah to repatriate her husband safely, just as Air Force Commander Abhinandan Vardhaman was repatriated from Pakistan.
Amit Shah paid homage at Jagdalpur in Chhattisgarh where the bodies of the soldiers were kept. He also attended a high-level meeting with Chief Minister Bhupesh Bagel and Army officials.