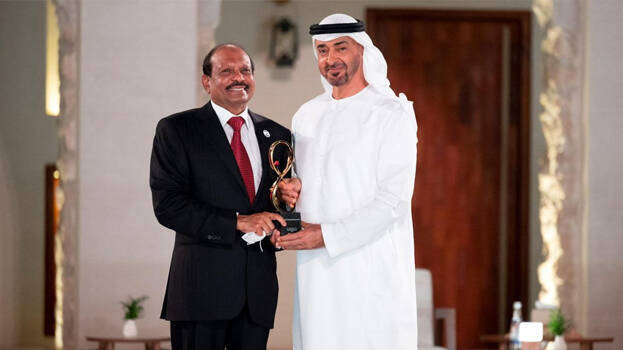 ABU DHABI: Expatriate businessman and Lulu Group chairman MA Yousafzai has been awarded the Abu Dhabi Government's highest civilian award. Yusuf Ali received the Abu Dhabi Award in recognition of his contribution to the Abu Dhabi Commerce and Industry sector and his outstanding support to the humanitarian cause.
Sheikh Mohammed bin Zayed Al Nahyan Yousafzai, Crown Prince of Abu Dhabi and Deputy Supreme Commander of the UAE Armed Forces, received the award at a ceremony held at the Al Hossain Heritage Building in Abu Dhabi.
The deadline for submitting nominations for the award was May to December 2019. The ceremony was postponed due to the Kovid epidemic. The 12 award winners, from soldiers to environmentalists, were announced on Friday.
Sheikh Mohammed bin Zayed said, "We commend 12 extraordinary individuals who have strengthened our country and society and practiced these values ​​on a daily basis through noble and charitable activities."
In addition to Yusufali, Left. General (Retd.) Obaid Mohammad Al Kabi, Dr. Fatima Al-Sayyid Yusuf Al-Rafai, Mohammad Ahmad Al-Murr, Dr. Essam Eldin Mohammad El Shamma, Zafarana Ahmad Khamis, Hussein Abdulrahman Khan Sahib, Faraj Ali Binhmoodah Al Daheri, Gubaisha Rubaya Al-Khatbi, Mohammad. Abdul Majeed Brek Al Zubaidi and Jacques Rene Renaud were the recipients of the award.