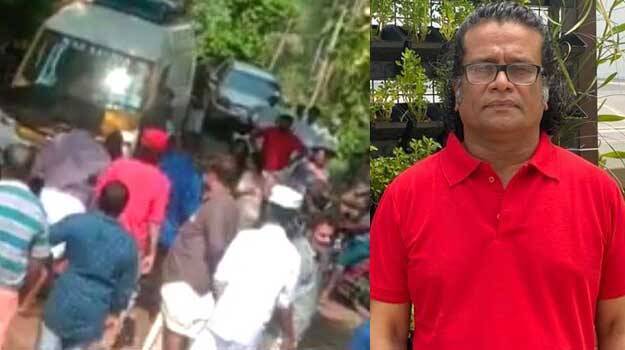 Actor Hareesh Peradi harshly criticised film organisations for not reacting against the RSS activists who disrupted film shoot in Palakkad. 'Spitting at the face of all film organisations for not reacting on disrupting a film shoot of a Malayalam film in Kerala,' he mentioned in a Facebook post.


കേരളത്തിൽ ഒരു മലയാള സിനിമയുടെ ഷൂട്ടിംങ്ങ് തടഞ്ഞിട്ടും പ്രതികരിക്കാത്ത എല്ലാ സിനിമാ സംഘടനകളുടെയും മുഖത്തേക്ക് കാർക്കിച്ച് തുപ്പുന്നു...ക്ര തുഫു...

Posted by Hareesh Peradi on Saturday, 10 April 2021
Sangh Parivar activists disrupted a film shoot at Kadambazhipuram Vayilyamkunnu temple in Palakkad the other day. The shooting of 'Neeyam Thanal' directed by Meesalman and Sinu was disrupted. They damaged shooting equipment also. Their threat was that will not allow to shoot film portraying Hindu-Muslim love story. The police have arrested five in connection with the incident.