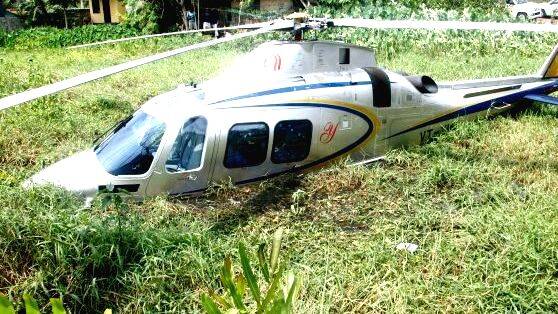 KOCHI: 'I was looking at the helicopter with fear whether it will fall on the roof of the house. That view is still unbelievable." There is still a shadow of fear in the words of Rajesh of Kuttikkattu Veedu in Panangad where the helicopter carrying MA Yousafali crashed. 'My wife Biji and I have been draining the rainwater that has accumulated in the yard since the early morning rains. Meanwhile, the helicopter was seen descending. The helicopter went a little higher than the coconut. " Rajesh said pointing to the coconut tree standing in the yard.
'Suddenly it reached the swamp. After two minutes, it fell down with a loud noise. I was so frightened. I ran to the swamp. The rotor blades were spinning so fast I couldn't get close. It took a few minutes for the blades to stop spinning. Immediately I went down to the swamp with the umbrella. It was still raining. The pilot was trying to open the door from the inside. He was able to open the door after some effort. Then each one was brought ashore under an umbrella. Meanwhile, Yusuf Ali deboarded the copter. When he got down he told he has back pain. I asked my wife to bring a chair from home and sat him down. I still did not know that it was Yusufali and his wife. Everyone was wearing a blue PPE kit. My wife informed the Panangad police station. They immediately rushed the seven to the hospital in a vehicle. "
Rajesh is a carriage labourer in Panangad. Biji, a senior civil police officer at Panangad station, is on maternity leave. Only the houses of Rajesh and his sister Prameela are here. The helicopter crashed in the land of Peter, a native of Nettoor.