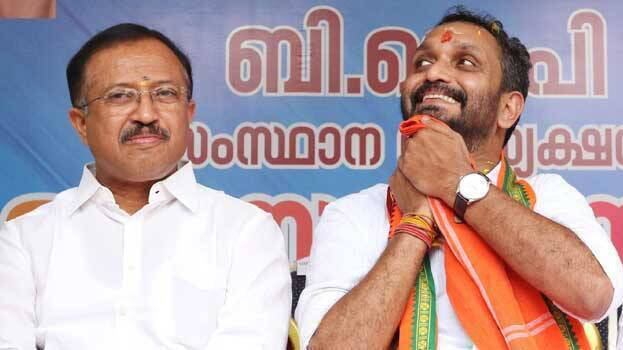 THIRUVANANTHAPURAM: BJP entered into the arena of 2021 assembly polls not only to increase its existing vote share but also to increase its number of assembly seats. State president K Surendran also said that if the party wins at least 35 seats then it can easily form the government. But the ground realities witnessed during the time of polling has compelled the leaders to have a rethink. Now they predict that the party can only secure five to ten seats in the assembly polls. If the party fails to win at least five seats, then it is imminent that state leadership will certainly face strong action from the centre. The central leaders of BJP may not show the patience to pay attention to state leaders claims one more time, if they don't put out a satisfactory performance.
This time the planning for assembly polls was completely carried out by central leadership. The state leadership has only functioned according to the directions of the centre. If the central leadership thinks that state leadership is not paying heed to its directions then state leaders might have to face the strong wrath of the centre after the polls. BJP has not followed their old strategy of launching strong campaign in all constituencies this time. They have unleashed powerful political campaigns only in those areas, where a neck-to-neck fight came up. Party workers also allege that in other areas, the campaign was not carried properly.
Most of the pre-poll surveys conducted in Kerala predict 0-2 seats for BJP but the central leadership will not satisfy with this evaluation. State leaders believe that if there are chances for a hung assembly, then BJP might become a crucial power.
Whereas BJP leaders fear that the party might lose Nemom. The party's workers in the campaign front hold the view that with the declaration of K Muraleedharan's candidature, the prospects of LDF's V Shivankutty has increased. Losing Nemom might create high-level repercussions in the party organisation.
Manjeshwar, Thiruvananthapuram central, Kazhakootam, Kasargod, Palakkad, Thrissur are the constituencies where BJP have high hopes but a sure victory also cannot be ensured in these constituencies. Though, they expect a victory in Manjeshwaram. It remains to be seen where the CPM votes will go.
The election results in Kazhakootam where Shobha Surendran has contested after a brief cold war with the state leadership is also crucial for the party. Last time K Muraleedharan clinched second spot in the constituency, therefore if Shobha loses the race in Kazhakootam, then both V Muraleedharan and K Surendran will be answerable to the centre.