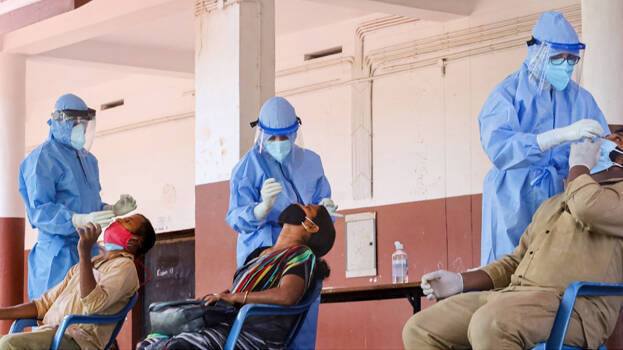 THIRUVANANTHAPURAM: With the hike in Covid cases, following the second wave of the pandemic, Maharashtra has imposed curfew to reduce the soaring number of cases. Meanwhile, Covid cases are also increasing in the state. The Chief Secretary has issued an order yesterday, specifying the new set of regulations and guidelines to be followed by the people. The new order gives special powers to district collectors to declare curfew on those areas where the test positivity rates are higher. On Wednesday, 7,515 cases were confirmed in Kerala. Health authorities say that this may further increase in the days to come.
The state government has decided to increase the number of mobile labs, to enhance the number of RT-PCR tests. These labs will be put in place with the help of private firms. The number of rapid antigen tests will be also increased in the state, to find more cases in the least possible time. As per the present estimates, the number of cases is higher in the districts of Kozhikode, Palakkad, Kannur, Malappuram, Idukki and Ernakulam. Therefore, it has been decided to increase the number of RT-PCR tests in these areas.
RT-PCR tests have also been made mandatory along with antigen tests for those who have shown symptoms. The government has also directed medical service corporation to institute more mobile labs in Idukki, Wayanad, Alappuzha and Pathanamthitta districts where the number of labs is low compared to other districts in the state. As of now, 10 mobile labs are functioning in the state along with the assistance of private companies.
Compared to other labs, the cost of testing in mobile labs is just Rs 500. Therefore it is expected that more persons could be tested in these labs. The rapid tests are conducted to find those with the virus as soon as possible and to quarantine them to prevent further spread of the pandemic. Health experts have also asked the government to increase the number of per day tests to one lakh in the wake of the massive spread of the pandemic.
Health minister K K Shylaja has also said that after the elections, the transmission of the pandemic has accelerated in every district. She also added that those with symptoms should be tested. "The pandemic prevention activities will be strengthened further at the ward level. In each district, effective planning should be done to prevent super spread. Special meetings should be convened at the district level. The vaccines should be only exported after ensuring their domestic availability," she said.