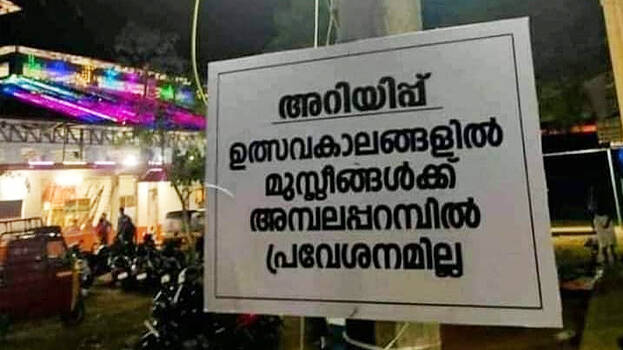 KANNUR: An anti-Muslim board that bans entry for Muslims in a temple ground during the festive season has landed in controversy. The board was set up in connection with the festival at Malliyottu Pallot in Payyanur, Kannur and is receiving harsh criticism on social media.
Social media points that the board is insulting the Muslim community and injecting communal poison even into the minds of the next generation. The board was set up in an area where CPM has influence.
It is alleged that Kunjimangalam, where the temple is located, is an area of ​​influence for the party and therefore the CPM cannot escape responsibility for the incident.
Social media reminds us that such boards inject the poison of religious hatred, that festival ground is a public place where everyone can come together and that diversity is its beauty.
While some say that such incidents are a sign of Sangh Parivar gaining strength in Kerala, others on social media say that the progressive and secular community in Kerala rejects attempts to promote communalism.