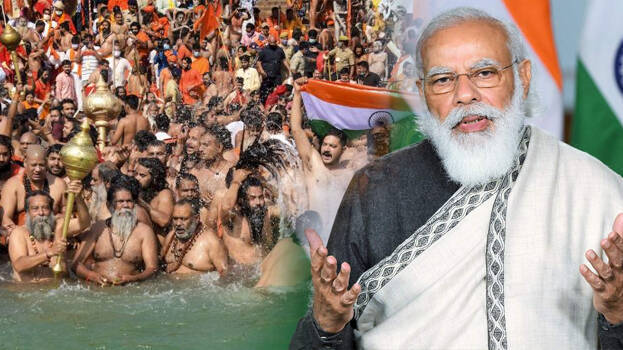 NEW DELHI: Prime Minister Narendra Modi said on Saturday the ongoing Kumbh Mela in Uttarakhand's Haridwar must be now kept "symbolic" to help India in its battle against the coronavirus pandemic after speaking to Swami Avdheshanand Giri over the phone. Several seers have tested positive for Covid-19 and two chief seers, or mahamandaleshwars, have succumbed to the viral disease.
"Spoke to Acharya Swami Avdheshanand Giri ji on the phone today. Enquired about the health of all saints. All the saints are providing support to the administration for smooth conduct of the affair and I thanked them for it," PM Modi tweeted in Hindi.
"Now that two royal baths have taken place, I appeal to everyone to keep Kumbh Mela symbolic due to the coronavirus crisis. This will give strength to India's fight against the virus," he said in another tweet.
Responding to the PM's call, Avdheshanand urged people to not come to the Kumbh Mela for bathing in large numbers and to follow Covid-19 appropriate behaviour.
"We honor the call of honourable Prime Minister! Protecting life is a great virtue. We urge the public not to come for a bath in large numbers and observe the rules, given the circumstances ," he tweeted.
The PM's appeal comes in the wake of nearly 2,000 devotees testing Covid-19 positive at Kumbh in around a week's time. A majority of devotees who took part in the two 'royal baths' (shahi snan) held on the occasion of Somwati Amavasya on April 12 and Mesh Sankranti on April 14 were seen flouting the Covid-19 norms.
The authorities drew flack from various quarters for the conduct of devotees as the Covid-19 tally in country reached new heights.
Over 14.52 million people have been infected with the virus in India, with 234,692 fresh infections being recorded on Saturday. As many as 1,341 people died of the virus in 24 hours, pushing the total toll to 175,649.