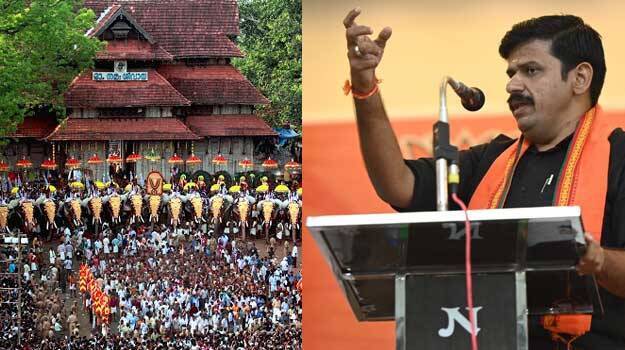 'Some including the DMO, who have asserted that Thrissur Pooram will not be conducted, have come forward with false propaganda. Those who kept their mouths shut in front of the parties during the election are intolerant to Thrissur Pooram. Although the Paramekavu and Thiruvambadi temples are ready to accept almost all the proposals propsed by the state government and the district administration, the DMO is trying to create problems.
For that, they are circulating video messages to create panic. Why was the esteemed DMO silent during elections? If there was transmission of Covid in Thrissur even before Pooram, isn't the madam responsible for forgetting her responsibility during the elections?
Enforce rational controls. However, it should not be an impractical obstinacy to sabotage Pooram practices and rituals. Conditions that may be detrimental to the movement of elephants, an important part of the festival, should be withdrawn. Only symptomatic mahouts should get tested. However, with the strictures of checking everyone, there will be absence of elephants. This will affect the conduct of the festival. People should be admitted according to the first GO saying those who have received a single dose of the vaccine can be permitted for Pooram. As it is not time for the second dose, don't create a situation of blocking people.
The police should be ready to permit those who produce Covid negative certificates through entry points in different parts of the city. The fact that thousands of people should upload the Covid test result in the site is a condition intended to harass people.
Lauding Paramekavu, Thiruvambadi Devaswoms and other poora committees for conducting the Pooram with utmost care and in compliance with Covid rules. Protesting against the move to destroy Pooram by bringing in impractical conditions for Thrissur Pooram. Do not rule out the possibility of the whole world watching Thrissur Pooram on TV. Pooram should be conducted by conducting Covid test and maintaining social distance.