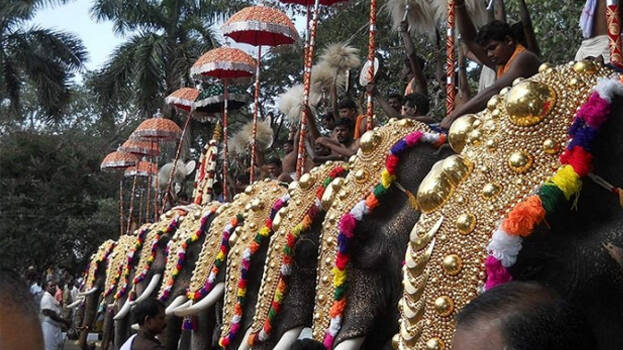 THRISSUR: It has been decided to hold Thrissur Pooram, which is in crisis due to Covid situation, with customary ceremonies. But only the organizers have access to the festival ground and the spectators have no access. Pooram can be viewed by the public through channels and online. The result of the RTPCR test is also mandatory for the journalists assigned for this purpose.
There will be no 'Poora Chamayam' this time. The sample firing on the 21st will only have one 'Kuzhi Minnal' (firework). Pakal Pooram, which was scheduled to be held on the 24th, the day after Pooram, has been cancelled. The time of the main attraction of Pooram, 'Kudamattam' (umbrella changing) was cut short. But 'Madathil Varav' and the 'Elanhithara Melam' will take place.
Organizers of Ghataka Poorams can also enter temple ground. Covid Negative Certificate is also mandatory for organizers. Or they must have received two doses of the vaccine. The DMO, the Commissioner and the District Collector are responsible for the administration of Pooram. Indications are that the ban was imposed on the public out of fear that the Covid control of the festival would be disrupted if people flocked here.
The main firework display will be carried out with restrictions. The Paramekavu section informed that the terms have been accepted. As part of the Pooram, Health University Vice Chancellor Dr. Mohanan Kunnummel was given charge of a committee of medical experts. Dr. Raveendran, Additional Professor in the Department of Surgery at Government Medical College, Thrissur, and Dr Binu Arikkal, Additional Professor of Community Medicine are the committee members. They decided the Pooram restrictions.