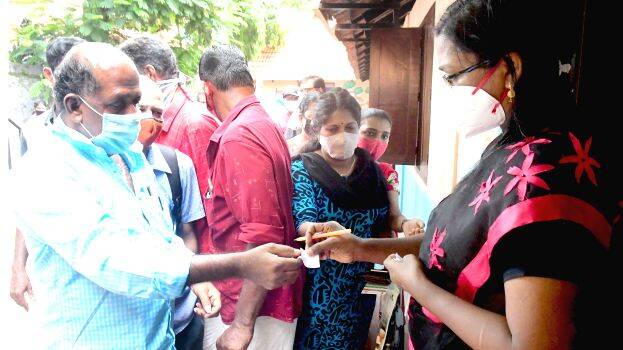 THIRUVANANTHAPURAM: Kerala recorded its highest single-day spike of 19,577 fresh COVID-19 cases on Tuesday, taking the total caseload to 12.72 lakh and the active cases to 1.18 lakh, the state government said. In the last 24 hours ending 2 pm, 1,12,221 samples were tested and the test positivity rate was 17.45 per cent, a government press release said. As many as 3,880 people have been cured of the infection, taking the total recoveries to 11,48,671. The total number of people infected with the virus has mounted to 12,72,645 The toll has mounted to 4,978 with 28 additional fatalities.
Meanwhile, a meeting chaired by the Chief Secretary decided to increase the covid tests in those areas which come under local self government institutions where the test positivity rates are higher. It has been decided to collect samples of people from all homes in such areas. The tests will be conducted in those panchayats which have higher test positivity rates than the district average. The meet has also decided to initiate a scientific study on the genetic mutation of the virus variant found in Kerala. The meet also evaluated that the ICU and ventilator facilities in the state are capable enough to meet any emergency situation.
The government is looking at all possible ways such as reducing the working hours of banks, controlling the number of people who can enter places of worship at the same time and tightening police checking in order to bring the situation under control.
At the same time, the district collectors announced additional restrictions in Kozhikode and Kochi, where the disease is more prevalent. Kozhikode Chemancheri Panchayath has the highest test positivity rate in the state at 54%. Of the 97 people tested here, 52 were diagnosed with the disease. Following this, a prohibitory order ban was announced in 12 panchayats in the district, including Chemancheri.
In Ernakulam district, the number of patients has crossed 3,000. The district reported 3212 positive cases yesterday alone. 113 wards of local bodies in the district, including four divisions of the Corporation, have been declared as containment zones. Lockdowns were imposed in these areas for six to seven days from today evening.