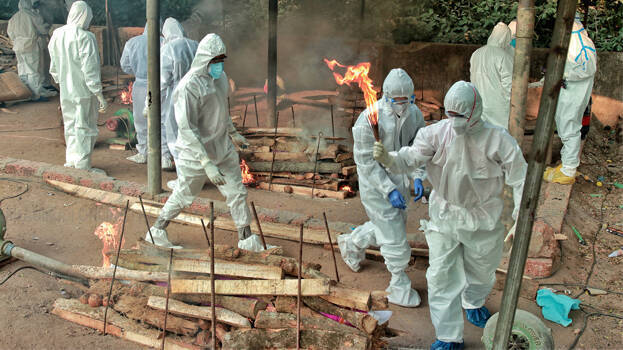 THIRUVANANTHAPURAM: The number of deaths due to Covid-19 is surging in the state in the second wave of the disease. Although the death toll in Kerala is lower than other states, health experts do not rule out the possibility of the elderly and the seriously ill becoming more infected and dying. The official death toll from Covid in the state has risen to 5,000 with 217 in the last 10 days alone.

In 21 days, that is, this month alone, the number of deaths due to Covid in Kerala is 363. However, these figures do not include in those who died of Covid infection when they were seriously ill or those who died of severe complications from the virus infection after Covid became negative. Adding them to the list, health experts estimate that twice as many or more people have died of Covid than the official death toll. When the number of people on the ventilator crossed 300 for the first time, 999 people were being treated in ICUs.

Hospitals concerned of oxygen shortage
Various hospital authorities share the concern that there may be a shortage of oxygen in the state. Hospitals need immediate intervention at the government level, even if there is currently no shortage of treatment for patients. Hospitals did not face the challenge of low oxygen availability in the first wave due to the low number of patients. However, that is not the case now. A senior official in the health department said that many private hospitals in Malabar were complaining that oxygen given earlier was not being supplied in quantities by the suppliers.

Measures from today
Various departments will start taking measures for week end restrictions. Even when government says that distribution of vaccine will function properly, the availability of second dose of vaccine remains a challenge. Meantime, Covid restrictions will be tightened in the state from today. Crowds are not allowed in public places. All shops must be closed at 7:30 pm. Parcel food delivery counters, offices related to emergency services will be open till 9 pm. Government offices will function with half of the staffs.

No spot registration
There will be no spot registration for Covid vaccination in the state. Those who want two doses should register on the Covid portal. Tokens should be issued only to those who have registered to skip the queue. It has been directed that districts should take the initiative for registration through government departments, Akshaya centers and voluntary organizations. The availability of vaccine should be displayed on the website. The health department has directed districts to make arrangements to inform the public about the availability.
Mass testing will continue today. One lakh forty thousand samples were collected yesterday. More than 18,000 were tested in Thrissur, more than 16,000 in Thiruvananthapuram and in Kozhikode more than 15,000. The health department is aiming for three lakh testing.