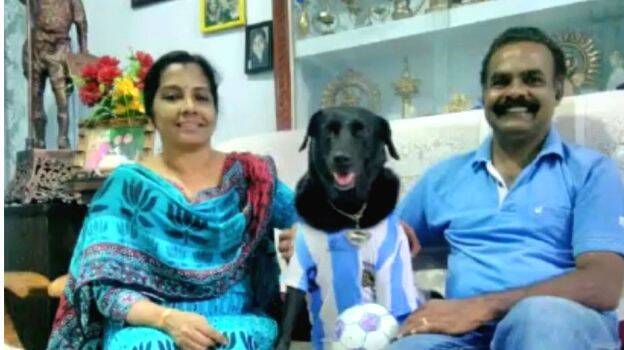 THRISSUR: ''Thashamol lives
In every atom here
And in our minds
Always! '' '
Rajan, who loved her pet dog so much, wrote these lines about her. Thasha was buried in front of the house. A tomb was made and tiles were laid and it was decorated with flower pots all around.

She had been with him for ten years, but on one she suddenly passed away. She was about to celebrate her 10th birthday on December 22nd last year. Her nine birthdays were celebrated even more glorious than celebrating children's birthdays. At noon on the 15th, she collapsed and never got up. It was a heart attack.
When asked if he loves a pet so much, Rajan will tell Thasha's story:

"Ten years ago, my wife's relatives in Mumbai gave me a puppy of the Lab breed. She often had to be left alone in the flat because they were busy with business. That's why she was given to us. Thasha quickly formed a bond with us. Though she had a crate on the outside she liked to stay inside with us. She used to sleep at night in our room. Every morning she comes to walk with me. For Onam and Vishu, she was also served sadya on a leaf with us. How can I not be sad? "
Rajan lives near the canal bridge on Kaiparambu's Thalakottukara Road. He was a subedar in the Army. Now he works as an office assistant at Vellarakkad Tejas Engineering College. His wife Omana is a homemaker. Their eldest daughter Mithuraj is married. Son-in-law: Praveen. Their second daughter, Minuraj, holds an MA in English from JNU, Delhi.