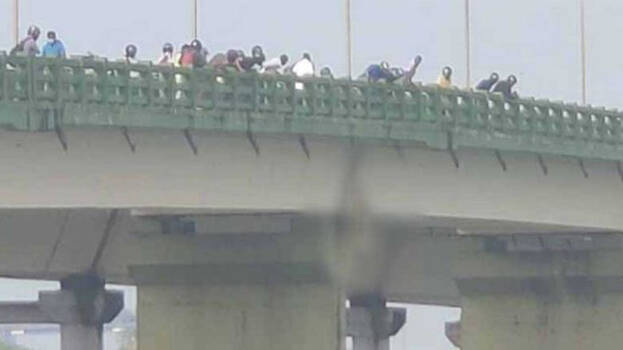 KOCHI: Three people died in four separate incidents near the Goshree bridge in Kochi. While a COVID-infected middle-aged man was found hanging from the Goshree bridge, a 26-year-old woman killed herself by jumping off the same bridge. An unidentified body was also found near the bridge yesterday Meanwhile, the bike and other belongings of a young man were found abandoned on the second Goshree bridge. It is suspected that he may have jumped into the lake.
Vijayan (62), a native of Mulavukadu was found hanging from the bridge at around 12.30 pm yesterday. Briyona Maria (26), daughter of Pallipuram native Nelson, jumped off the bridge while Vijayan's body was being removed from the bridge. Though Briyona was brought ashore by fishermen, she died on the way to the hospital.
Vijayan, an autorickshaw driver, tested positive for COVID-19 on Wednesday. His body was found by staff at a parking lot for National Permit vehicles near the bridge. Police said that he may have committed suicide due to the result of the COVID test.
Police said that Briyona had left her house in the morning for an interview. The reason for her suicide isn't clear yet. The body was autopsied and handed over to relatives.
The unidentified body was found near DP World on Thursday morning. Mulavukadu police said that efforts are in progress to identify the deceased.
The scooter and mobile phone of Ajeesh (25) who went missing from Edavanakkad was found on the second bridge. He is the son of Kannadupadam native late Ayyappan. A missing case has been registered based on a complaint lodged by Ajeesh's mother.