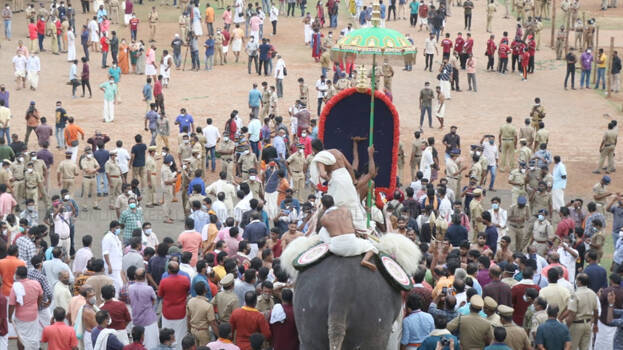 THRISSUR: Customs of this year's Thrissur pooram has been concluded. The Thiruvambadi and Paramekkavu devaswoms came to the temple grounds with one elephant each, bid farewell to each other and thus concluded the pooram. The pooram which was undertaken this year with reduced festivities and crowd participation was further limited following the death of two persons caused by the fall of a tree branch yesterday midnight during the 'Madatil Varavu custom' of Thiruvambadi. The Pakalpooram and the 'uparacharam chollal'( bidding farewell to each other until next pooram) which normally extend till the afternoon was completed in the morning itself and thus by 8.30 am all costumes associated with Pooram was concluded.
Thiruvambadi has earlier said that it will use one elephant for the procession. In the wake of the accident which occurred yesterday, Paramekkavu which has earlier decided to conduct the temple procession with 15 elephants limited the procession to one elephant. This year's pooram was concluded after the date of the next pooram was declared. The next pooram will be held on 2022 May 10. Pakalpooram will be undertaken on May 11th.
The accident occurred during the Madatil Varavu of Thiruvambadi Madham at midnight 12 AM. The members of Tiruvambadi devaswom—Poocheeti native Rameshan and Pookunnam native Panniyath Radhakrishnan have passed away in the accident. 25 were injured in the accident. Most of them are admitted to different hospitals within the city. Eight have been shifted to medical college hospital. The fire force personnel took one and a half hour to chop off the tree.