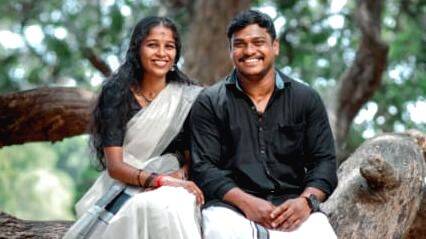 AMBALAPPUZHA: 'Our son Sarath Mon S is getting married. The bride is Abhirami, daughter of PS Suji and Kusumam Suji of Plamparambil in Vadakkanaryadu , Alappuzha. The wedding will take place on April 25 between 12 noon and 12.15 pm at the bride's house'.
The venue for this wedding that is going to take place today is a special room at Alappuzha Vandanam Medical College Hospital. A PPE kit will be Abhirami's wedding saree when Sarath ties the tie around Abhirami's neck. Only two relatives wearing PPE kits will be there to witness the moment.
Sarath Mon is the son of N Sasidharan and Jiji Sasidharan of Onampally house in Kainakari's Kuppappuram. He is working in a private company in Saudi Arabia. He came here 17 days ago. On the 21st, Sarath and his mother Gigi tested at the Alappuzha Sahradaya Hospital after having Covid symptoms. After testing positive, the two were shifted to Alappuzha Medical College Hospital.
Sarath shared with his friends his desire to get married on the day fixed earlier. They informed the Collector through Thomas K Thomas, the LDF candidate from Kuttanad. Collector A Alexander spoke to Hospital Superintendent Dr Ramlal and decided to conduct marriage by adhering to Covid protocol.

After the ceremony, the bride will return to her own home while the groom goes to Covid ward. Sunny, Saji and Gopalan took the initiative to fulfill their friend's dream. After recovering from the disease, the plan is to give sadya to those who were invited.