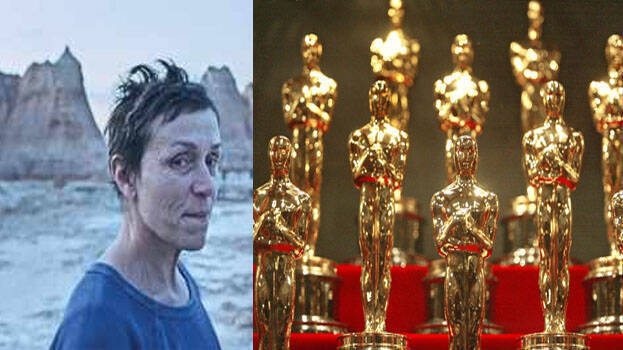 LOS ANGELES: An Oscars ceremony unlike any other was held on Monday morning, with no host, no audience, nor face masks for nominees attending The 93rd Academy Award at Los Angeles' Union Station — this year's hub for a show usually broadcast from the Dolby Theatre.
Chloé Zhao won Best Director, making her the first woman of colour, and the second woman ever, to win the award. Nomadland also won the Best Picture award, as well as Best Actress for Frances McDormand. Anthony Hopkins, in an upset, won the Best Actor award for The Father, pipping the late Chadwick Boseman.
Ma Rainey's Black Bottom picked up two Oscars, with Thomas Vinterberg's Another Round winning Best International Feature Film.
Ann Roth became the oldest woman to win an Oscar. She won the Best Costume Design award for Ma Rainey's Black Bottom. Pete Doctor picked up his third career Oscar for Soul, Pixar's latest animated film. Minari's Yuh-Jung Youn became the first Korean actor to win an Oscar, a year after Parasite became the first Korean film to be honoured at the Academy Awards.
Emerald Fennell became the first woman in 13 years to win the Best Original Screenplay Oscar, while Mank's two wins put it ahead of the film it honoured, Citizen Kane.
Best Actor - Anthony Hopkins
In an upset -- Chadwick Boseman was widely expected to win a posthumous award -- Anthony Hopkins picked up his second Oscar. He had previously won for The Silence of the Lambs. At 83, he is now the oldest actor to ever win an Oscar.
Best Actress - Frances McDormand
Frances McDormand continues the Nomadland sweep, after the film picked up the Best Director and Best Picture Oscars, at this year's unexpectedly structured ceremony. This is McDormand's third acting Oscar, and fourth overall.
Best Picture - Nomadland
Chloe Zhao's Nomadland wins Best Picture. Zhao had previously won the Best Director Oscar.
Irrfan Khan, Chadwick Boseman, Bhanu Athaya and others were honoured in the in memorium segment.
Best Original Song - Judas and the Black Messiah
H.E.R., D'Mile and Tiara Thomas are winners of Best Achievement in Original Song, for Fight for You, from Judas and the Black Messiah. This means that nominee Diane Warren is among the most-nominated Oscar contenders who have yet to win the award. She has been nominated 12 times.
Best Original Score - Soul
Pixar's Soul wins its second Oscar. Trent Reznor, Atticus Ross and Jon Batiste win the Best Original Score Academy Award. Reznor and Ross have previously won for The Social Network.
Best Editing - Sound of Metal
Mikkel EG Nielsen wins the second Oscar for Sound of Metal. The film has already won the Sound Editing Academy Award.
Best Cinematography - Mank
Mank continues Netflix's domination at the 93rd Academy Awards, picking up its second Oscar of the ceremony.
Best Production Design - Mank
David Fincher's Mank, which leads with the most nominations, picks up its first award.

Best Supporting Actor - Yuh-Jung Youn
Yuh-Jung Youn is now the first Korean actor to ever win an Academy Award.
Best Visual Effects - Tenet
Best Documentary Feature - My Octopus Teacher
Best Documentary Feature goes to My Octopus Teacher (Pippa Ehrlich, James Reed and Craig Foster). This marks Netflix's fifth win of the show, the most ever for a streaming service.
Best Documentary Short Subject - Colette
Best Documentary Short goes to Colette (Anthony Giacchino and Alice Doyard).
Best Supporting Actor - Daniel Kaluuya
Daniel Kaluuya wins Best Supporting Actor for Judas and the Black Messiah.
Best International Feature Film - Another Round
Another Round, directed by Thomas Vinterberg, wins Best International Feature film at the Oscars. Vinterberg pays tribute to his daughter Ida, who was killed in an accident four days after the film started shooting. "We miss her, and I love her," he said. "We ended up making this movie for her, it's her monument."
Best Adapted Screenplay - The Father
Best Adapted Screenplay goes to Christopher Hampton and Florian Zeller for The Father. "To me, he's the greatest living actor," said Florian Zeller on working with Anthony Hopkins.
Best Original Screenplay - Promising Young Woman
Emerald Fennell wins the Oscar for Best Original Screenplay, for Promising Young Woman. She is the first woman to win a screenplay Oscar in 13 years, since Diablo Cody triumphed in this same category for Juno. There are now five solo female winners for Best Original Screenplay: Callie Khouri, Jane Campion, Sofia Coppola, Diablo Cody and Emerald Fennell.