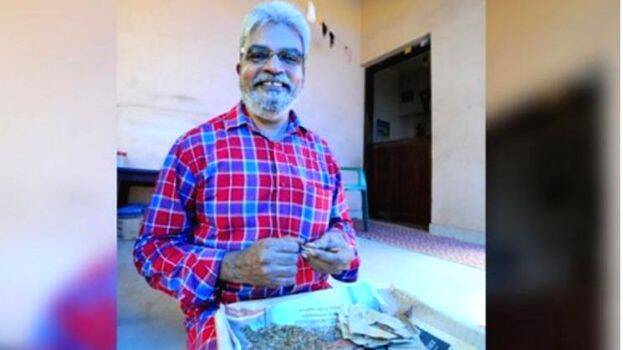 KANNUR: The beedi labourer who handed over his life savings to the Chief Minister's relief fund and won the applause of the people, is happy here in Kannur. Janardhanan (63) of Kannur Kuruva Chaladan House donated his entire savings of Rs 2 lakh to the Chief Minister's Vaccine Challenge. Janardhan is a beedi labourer in Avera Colony in Kannur. Even B Tech graduates Navana and Naveen got to know their father good deed through social media.
Janardhanan on Thursday learned through CM's press meet that one would have to pay Rs 400 for Covid vaccine which used to be free of cost before. The idea that this would be a burden on the government led Janardhanan to decide to give something he could. A fan of Pinarayi Vijayan and a staunch CPM supporter, he reached the Kannur District Co-operative Bank at 10 am the next day. On inquiry, he came to know that there is over Rs two lakhs. Janardhan demanded Rs 2 lakh from that for the vaccine challenge. Shocked by this, the employees inquired about his living conditions and advised him to pay Rs 1 lakh, but Janardhanan did not change his mind. When told that he could hand over the money to the Collectorate in the presence of everyone, Janadhanan said his name shouldn't be revealed.
His wife Punarunchal Rajini died on June 26 last year due to brain tumor. Both have worked in Dinesh Beedi for 36 years. Janardhanan is currently working at KM Beedi. He started working this job at the age of 13. Janardhanan is the eldest of four children of beedi worker Narayanan and Karthiyani.