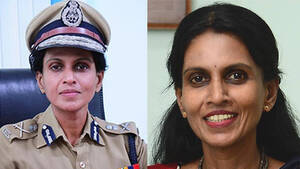 THIRUVANANTHAPURAM: The Museum police have taken action on a complaint by Former DGP R Sreelekha in connection with an online scam. The action was taken after Sreelekha posted on Facebook that the police had ignored the complaint even after lodging it. Police have arrested an Ekart representative who allegedly duped Sreelekha by giving her damaged headphones.

Sreelekha's Facebook post said that despite informing the police about the loss of Rs 1700 through online fraud, no action was taken. The Bluetooth earphone was booked online on April 6th. But old headphones were brought on April 14th. Though she immediately called the person who brought the parcel he told her arrogantly that she would not get her money back even if she lodges a complaint with the police. The Museum CI was informed about the loss of money. A complaint was lodged through the police website. Sreelekha had openly said on Facebook that no action had been taken after 14 days.

The museum police initially explained that they had not received a written complaint following the incident. Within hours, Ekart representative was found and Sreelekha's money was returned. Later, Sreelekha posted a new post on Facebook praising the Kerala Police.