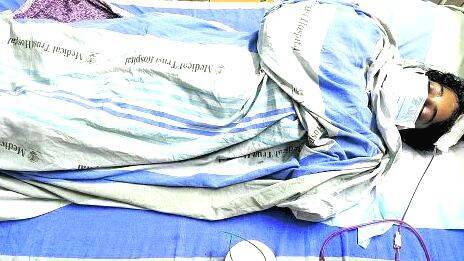 KOCHI: Nooranad native Babukuttan, who allegedly attacked and robbed a woman on the Guruvayur-Punalur passenger train, had reportedly got off the train at Chengannur station. The Railway Police have not received any clear information regarding his whereabouts.
Asha (32), who jumped from the train to escape the attack, was shifted from the ICU to her room as her health improved. Asha will undergo surgery today for a fracture in her left arm. After examining the wound on the back of the neck, surgery will be performed if necessary. She also suffered injuries to the waist region and spine. It is suspected that this happened when she was dragged on the train or when she jumped out.
Asha was shifted to the room from the neuro ICU of Ernakulam Medical Trust Hospital yesterday afternoon. Hospital officials said she was in good health and would be monitored for a few more days. The treatment is led by Neurosurgeon Dr. Haarun M Pillai. Rahul said Asha ate lightly and talked. There is drowsiness since she is being given painkillers.
Railway police said that they were still trying to nab the assailant. The CCTV footage of the railway stations is being checked to confirm whether he had got off at Chengannur. Lookout notice will be issued today or tomorrow. The Railway Police charged the accused with aggravated assault (394) for theft and extortion, attempted murder (307), and sexual assault (376). A campaign was also launched on social media to find him.
Asha's mobile phone, which was lost during the abduction, was recovered from Olippuram. Two youths, who found the phone near the railway station, brought it to the Mulanthuruthy police station. Railway police received the phone from Ernakulam.
Victims of train violence will receive compensation. Railway Area Manager Nitin Robert said a complaint could be lodged with the Railway Tribunal for this.