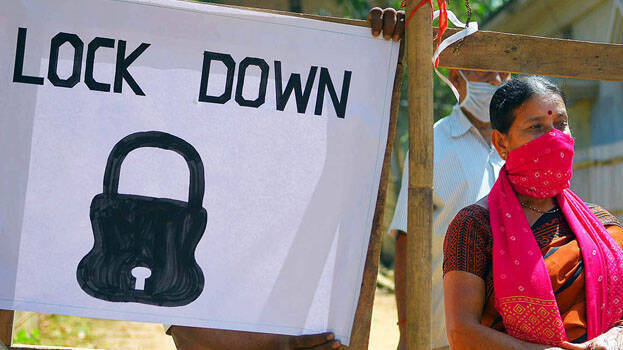 WASHINGTON: No nation likes to lock itself down but an "immediate" shutdown for a "few weeks" could put an end to the cycle of transmission in India, Dr Anthony S Fauci, one of Covid's most trusted global voices, said. That will provide a window, he said, to take critical "immediate, intermediate, and long range" steps out of this "very difficult and desperate" situation.
Fauci, chief medical advisor to the Biden Administration and who has worked with seven US Presidents, said on Friday from the National Institute of Health in Bethesda, Maryland.
The one thing I don't want to do and I hope it doesn't turn out this way, is to get involved in any sort of criticism of how India has handled the situation because then it becomes a political issue and I don't want to do that since I'm a public health person and I'm not a political person.
It just seems to me that, right now, India is in a very difficult and desperate situation. I just got off, in preparation for this interview, I watched a clip from CNN… it seems to me it's a desperate situation. So when you have a situation like that you've got to look at the absolute immediate.
I mean, first of all, I don't know if India has put together a crisis group that would meet and start getting things organised. I heard from some of the people in the street bringing their mothers and their fathers and their sisters and their brothers searching for oxygen. They seem to think there really was not any organisation, any central organisation.
The first thing to do is to first look at what is the immediate thing you can do right now. What is the intermediate thing that you can do in two weeks? One of the things that you can do to prevent this prolonging — you've got to look at it in multiple different phases.
For example, vaccinating people right now, which you absolutely must, must do — it's essential — is not going to alleviate the immediate problem of people needing oxygen, needing hospitalisation, needing medical care. That's not going to fix it now because vaccinating people today, it's going to be a few weeks before you alleviate the prevention of other people getting sick.
So take care of the people right now. I would think that you've got to get some sort of a commission, or an emergency group to make a plan how to get oxygen; how do we get supplies; how do we get medications, and call — maybe with help from WHO — countries.
And the US, thankfully, I'm very pleased to see, they have now moved to make a major commitment for medications, for oxygen, for PPE, and for ventilators. But we've got to get other countries to come in and help India right now because India has been very generous in the past crises in helping other countries. Now is the time other countries to try to alleviate the immediate problem that India has. That's the first thing.
Then the intermediate. I think you need — what the Chinese did when they had a crisis, you might recall, literally, within a few days to weeks they built these emergency units that served as hospitals to take care of people. It was an accomplishment that everybody marvelled at. It just seems to me, what I was viewing on television, what people were looking for a desperate need for hospital and care. That's the first thing.
The second thing, you can mobilise different groups of government. For example, what is the role of the military? Can the military come in and help? I mean, you can immediately get military help the way we, in the United States, have used our National Guard to help us distribute the vaccinations.
I think it should at least be seriously considered. The intermediate — to get hospitals built quickly. I mean really quickly, within a matter of — you know, they put up these field hospitals that they built during war. You should think of this, in some respects, like a war. The enemy is the virus. So you know where the enemy is, so I would make it almost like wartime because it's an emergency.
And, finally, in the longer range, in a matter of a couple weeks, I would do whatever you can do to get vaccinated. To have a country like India, where two per cent of people are vaccinated, is a very serious situation. You absolutely have to get more people vaccinated.
So that's my take on it. Address the absolute immediate problem, get the intermediate things going, and then take a look at the longer range in regards to vaccines.