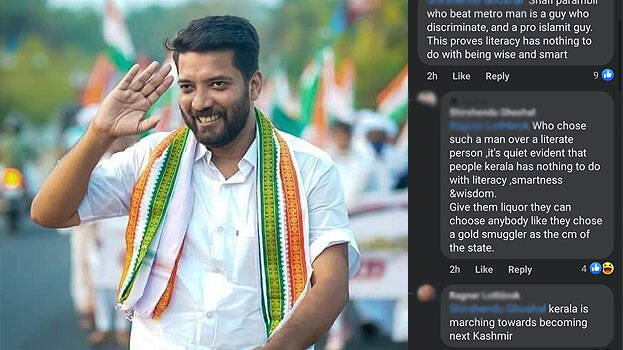 Pro-Sangh Parivar social media profiles have come to the fore with hate propaganda through social media in the wake of the pathetic defeat in the Assembly elections. The hate campaign is targeting UDF candidate Shafi Parambil, who won the Palakkad constituency. Shafi won the constituency by defeating BJP candidate E Sreedharan.
But Shafi's victory is seen by some as a way to spread hate propaganda. They are spreading false propaganda that Shafi is a 'jihadi' and that Kerala is the next Kashmir. Such people are carrying out this campaign through comment boxes of the national media.
With the BJP not winning a single seat in Kerala this time, they have come up with such hate propaganda at a time when the propaganda that Kerala is BJP free is going viral. The BJP was hoping that E Sreedharan would win in the Palakkad constituency.
The first results of the counting of votes also pointed to this. But Shafi overtook him as the counting reached the final stages.
The Left Front came to power in Kerala with a resounding victory in 99 seats. When the main opposition UDF was reduced to 41 seats, the NDA / BJP won no seats.