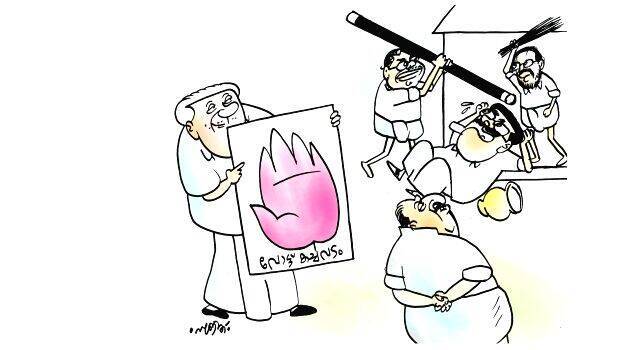 THIRUVANANTHAPURAM: Heated debates and disputes have broken out in the Congress and the BJP after the humiliating defeats in the Kerala assembly elections. Sources said that both Ramesh Chennithala and Mullappally Ramachandran are mentally prepared to resign as the demand for a change of leadership intensified within Congress. The district units of Congress have started pressurising the leadership by ringing the resignation bells.
Meanwhile, both UDF and the BJP found themselves on the defensive after Chief Minister Pinarayi Vijayan alleged that votes were traded between them in several constituencies. The CM also pointed out that the BJP lost about 4.5 lakh votes in this election due to vote trading.
Soon, Dr. KS Radhakrishnan, BJP state vice president and party's candidate in Thrippunithura, added fuel to the fire by confirming the CM's allegation. With this, vote trading controversy is sure to cause further turmoils in the BJP and Congress in the coming days.
According to sources, Ramesh Chennithala will not be ready to lead the opposition in the new assembly as the UDF was reduced to a pitiable state with just 41 seats. However, Mullappally Ramachandran said that a decision regarding this will be taken after receiving High Command's instructions.
Meanwhile, more party leaders have come out raising their voices against the party leadership. However, KPCC Working President K Sudhakaran and former KPCC president K Muraleedharan have maintained meaningful silence. The office bearers, including KPCC vice-president T Sarathchandra Prasad, demanded that the KPCC leadership meeting should be convened to discuss the reasons for the failure.
Alappuzha DCC president M Liju, who was also the UDF candidate in Ambalappuzha, announced his resignation by taking up responsibility for the humiliating defeat in the election. Kannur and Idukki DCC presidents Satheeshan Pacheni and Ibrahimkutty Kallar have announced their willingness to resign from their posts. In Wayanad, DCC general secretary MG Biju, secretaries Kammana Mohanan and MS Venugopal resigned by taking up responsibility for the defeat of Jayalakshmi. The Save Congress Forum launched a campaign on social media demanding Thrissur DCC president MP Vincent's ouster.