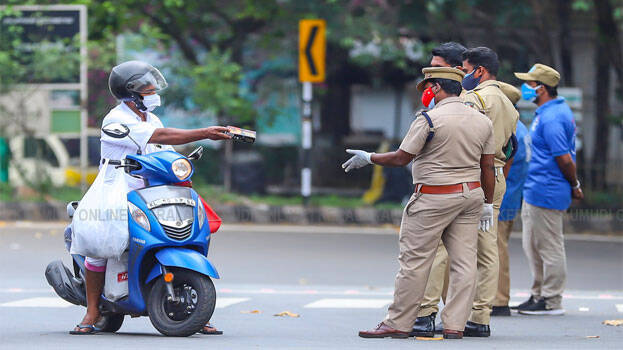 THIRUVANANTHAPURAM: As part of efforts to reduce the rapid transmission of the pandemic, the lockdown has been implemented in the state, which has come into effect from today onwards. Police passes are essential to go out for emergency needs. In the case of emergency situations, self-declaration is a must.
Police have said that they will issue special passes for housemaids and other daily wage workers. The online facility to apply for the pass will come into effect by today evening. After that with either the employer or the worker himself must submit an application, until then such persons can use the self-attested declarations.
Those working in the essential sectors can travel with their ID cards. ADGP Vijay Sakhare has said that in vegetable markets only half of the shops could be opened. Chief Minister Pinarayi Vijayan has also said that it must be ensured that the migrant labourers are not suffering from Covid and they should be provided with food and housing at the construction site itself. "The contractor must provide the sufficient facilities otherwise they should help the workers to get to their homelands," the chief minister said.
As the lockdown is in operation, banks, insurance firms and other financial institutions can only function on the days of Monday, Wednesday and Friday. The banking time is from Morning 10 am to afternoon 1 pm.
The state of affairs during lockdown is as follows:
Special travel pass for those in ward level panels
Those who are coming from other states must be registered in the covid surveillance portal. They must serve 14 days of quarantine
Food stalls should not be opened
The auctioning at harbours stopped
Ban on collections of chit funds
No ban on transportation of goods
If courts are functioning then officials and advocates can travel
The packing units of food and medical items can function as usual.
Automobile workshops can be opened on the weekends.
Toddy shops closed
Media persons can work freely