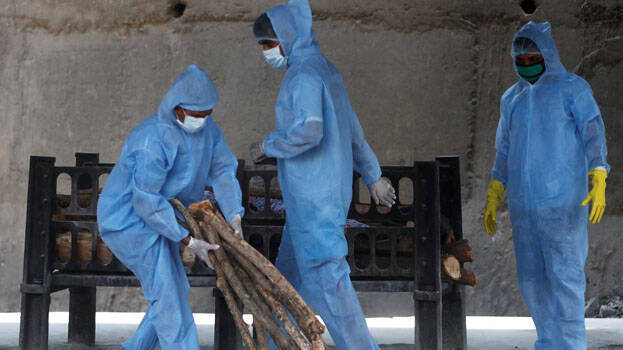 NEW DELHI: India recorded over 4 lakh new Covid-19 cases in the last 24 hours ending 8 am Saturday, taking the country's total caseload to over 2.18 crore. Out of these, over 37 lakh cases are currently active while over 1.79 crore people have recovered. With 4,187 new deaths, the toll now stands at over 2.38 lakh. At least 14 states are reporting cases in five figures. Maharashtra reported about 54,000 cases, Karnataka had nearly 49,000, while Kerala had over 38,000.

A day after Tamil Nadu recorded its biggest single-day spike in covid cases, the new DMK government on Saturday announced a complete lockdown in the state from May 10 to May 14, becoming the latest state to do so. Before this, neighbouring states Kerala and Karnataka announced complete lockdowns on Friday due to the second wave of the virus.

Amid India's deadly second wave, twenty-four states have reported a test positivity rate of more than 15 per cent for Covid-19 over the last week, the government said. At least 30 districts had shown "a steep upward trend" in cases over the last two weeks. The data were a "matter of great concern", the Health Ministry said.

The Union Health Ministry Friday said states such as Maharashtra, Uttar Pradesh, Delhi, Rajasthan, Chhattisgarh, Gujarat, Madhya Pradesh, Telangana and Jharkhand have shown plateauing of daily Covid cases gradually. The ministry also said that 12 states have over one lakh active Covid-19 cases while seven states have 50,000 to one lakh active cases.

Two days after he said the third Covid wave is 'inevitable', Principal Scientific Advisor to Prime Minister K VijayRaghavan Thursday said it can be prevented "if we take strong measures". "It depends much on how effectively the guidance is implemented at the local level, in the states, in districts and in the cities everywhere," ANI quoted him as saying.